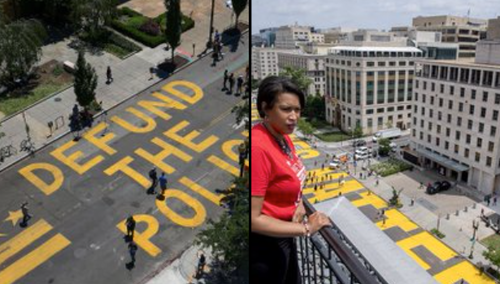 Murder Crisis Plagues DC As Mayor Begs For More Officers After 'Defunding Police'
How it started. 
How it's going? 
#NEW – Mayor Bowser on DC's rising crime and 200+ homicides…
She says DC needs more police officers. @WUSA9 pic.twitter.com/VCApKXxzHJ
— Lorenzo Hall (@LorenzoHall) September 27, 2023
D.C. Mayor Muriel Bowser, a former supporter of the 'defund the police' movement, urgently calls for increased policing as the nation's capital faces an out-of-control murder crisis. 
"What I can say is this: To me, numbers are just numbers. When we lose one person — whether it's one or 200 — that's too many," Bowser said at a press conference earlier this week. 
Of course, Bowser, like many Democrat mayors, blames firearms as the issue, deflecting any possibility her disastrous social justice reforms only embolden criminals – while punishing law-abiding taxpayers -across the imploding Washington, DC metro area. 
Even the Washington Post can't ignore the murder crisis: 
For the first time in a quarter-century, the year's homicide toll in Washington has surpassed 200 before October — a mark of surging violence that has angered and distressed local leaders, drawn scrutiny from Congress and made some residents question whether they can safely live in the nation's capital.
WaPo added:
The last time D.C. logged its 200th homicide before October was Aug. 12, 1997, in a year that ended with 303 people slain, according to police data. After that, annual totals generally trended downward, staying below 200 from 2004 to 2020, with a low of 88 in 2012. But the killing pace has picked up again, reaching 226 in 2021.
Heading into the 2024 presidential election cycle, Democrats will never admit their social justice reforms have failed. They conveniently blame guns. 
Directly north of D.C. lies another crime-ridden metro area: Baltimore City. And this week, mass looting was seen in Philadelphia. And just north of Baltimore and Philadelphia, New York City's progressive mayor recently warned of financial ruins due to a migrant crisis. 
Democrats have transformed cities into absolute messes. 
Tyler Durden
Thu, 09/28/2023 – 20:00
ZeroHedge News
[crypto-donation-box type="tabular" show-coin="all"]