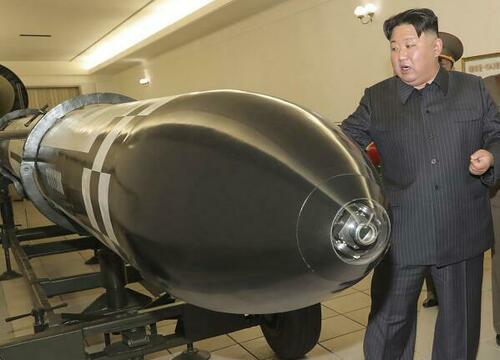 North Korea Enshrines "Permanent" Nuclear Power Status In Constitution
On Thursday North Korean state media quoted leader Kim Jong Un as saying more advanced atomic weapons are needed to counter the threat from the United States.
This signals the death knell for Washington's long stated policy goal of denuclearization of the Korean peninsula, given that the remarks came as Kim enshrined the DPRK's status as a permanent nuclear power in its constitution.
North Korea's "nuclear force-building policy has been made permanent as the basic law of the state, which no one is allowed to flout," Kim told the State People's Assembly, according to state-run KCNA.
Starting last year he declared the north as an "irreversible" nuclear weapons state, and has in the last couple months ramped up ballistic missile tests in response to intermittent, ongoing joint US military drills with the south. This has already been a record year in terms of the number of Pyongyang's missile tests.
The north's rubber-stamp parliament, which met Tuesday and Wednesday, has approved the nuclear update to the constitution. Kim described that this was necessary as the United States has "maximized its nuclear war threats to our Republic by resuming the large-scale nuclear war joint drills with clear aggressive nature and putting the deployment of its strategic nuclear assets near the Korean peninsula on a permanent basis."
In July, the nuclear-armed USS Kentucky Navy ballistic missile submarine made a port call in South Korea, which marked a first in decades. It has stayed there since, enraging Pyongyang.
Kim in his Thursday address also blasted growing defense cooperation between Washington, Seoul and Tokyo as the "worst actual threat," saying that as a result "it is very important for the DPRK to accelerate the modernization of nuclear weapons in order to hold the definite edge of strategic deterrence."
A similar message was delivered in New York on Tuesday by Kim Song, North Korea's representative at the UN, who said in an address to the UN General Assembly that the region is close to the "brink of a nuclear war". 
NEW: North Korea's ambassador to the U.N. issued a stark warning that the Korean Peninsula has reached a "hair-trigger situation with imminent danger of nuclear war breakout," delivering a speech at the 78th U.N. General Assembly in New York on Tuesday. https://t.co/Rwtxf37wkW
— NK NEWS (@nknewsorg) September 27, 2023
"Owing to the reckless and continued hysteria of nuclear showdown on the part of the US and its following forces, the year 2023 has been recorded as an extremely dangerous year that the military security situation in and around the Korean peninsula was driven closer to the brink of a nuclear war," he said.
"Due to [Seoul's] sycophantic and humiliating policy of depending on outside forces, the Korean peninsula is in a hair-trigger situation with imminent danger of nuclear war," the ambassador continued. He further blasted the US for attempting to erect an "Asian NATO" that will bring a "new Cold War structure to northeast Asia."
Tyler Durden
Thu, 09/28/2023 – 17:20
ZeroHedge News
[crypto-donation-box type="tabular" show-coin="all"]