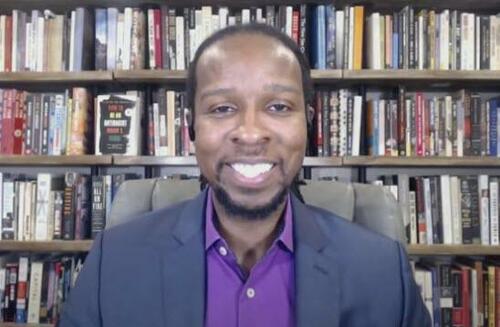 Boston University Will Investigate Kendi Center After Ignoring Questions For Years
Authored by Matt Lamb via The College Fix,
After ignoring questions about Ibram Kendi's work for years, Boston University will now look into management at the Center for Antiracist Research.
Boston University will investigate the center's "culture and its grant management practices," following complaints. The center reportedly raised $55 million, which includes at least $10 million from former Twitter CEO Jack Dorsey.
"To ensure its long-term impact and sustainability, Kendi made the decision to restructure the center to create a residential fellowship program for antiracist intellectuals, creators, and students," BU announced on Sep. 21.
"He announced the layoffs as part of the restructuring (19 staff people were laid off, leaving a staff at the center of 15 to 17 people moving forward)."
This comes not only after Professor Saida Grundy first raised concerns in 2021, according to the student newspaper, but after The College Fix and other media outlets have questioned Kendi's output.
BU said it "recognize[s] the importance of Dr. Kendi's work and the significant impact it has had on antiracist thinking and policy" and looks forward to working with him on the inquiry. But Kendi's "work" has often been lacking and other joint ventures with the professor have fallen through.
Most recently, and just prior to the public implosion of the center, The Fix reported that Kendi had not written an academic paper in the past four years. The Aug. 21 article noted he had written at least two children's books in the same period.
In March 2021, The Fix asked "What exactly does Ibram Kendi do all day," following original Fix reporting that found the center director had made at least $300,000 lecturing on how America is racist.
The Fix also questioned a promised "Racial Data Lab" in January 2021 that was supposed to be a partnership between Professor Azer Bestavros and the center. When asked for comment on the tracker, Bestavros said it had nothing to do with his work. "Your questions are not about my work or my research," he said at the time in an email.
The Fix asked him if he had any concerns about Kendi's ability to follow through on projects – media reporting had shown he failed to deliver on a similar racial data tracker, instead relying on volunteers with The Atlantic. Yet, Kendi cited the "COVID Racial Data Tracker" as an accomplishment of the center in his Sep. 22 statement.
My thoughts on the @AntiracismCtr layoffs. pic.twitter.com/yRXnPGTqdT
— Ibram X. Kendi (@ibramxk) September 22, 2023
Bestavros did not reply to requests for comment six months later, nor did Kendi's team. The Fix frequently reached out to Boston University, including spokesman Colin Riley, and other Kendi associates for comments over the course of two articles on Kendi's tracker and a third one about the now-ended relationship with The Boston Globe.
The Fix reached out to at least seven different Kendi associates or representatives a total of twenty times for just those three articles. In all cases, requests for comment were ignored or not substantially answered.
Kendi did comment on the situation in a post on X, formerly known as Twitter.
While acknowledging "missteps" he also played his favorite card, saying that "[l]eaders of color and women leaders are often held to different standards" and called his center's work "crucial" for "antiracist" efforts.
Tyler Durden
Thu, 09/28/2023 – 19:00
ZeroHedge News
[crypto-donation-box type="tabular" show-coin="all"]