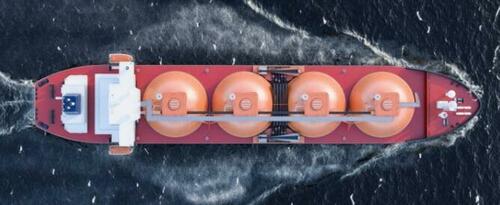 Chevron LNG Workers End Strike In Australia
Authored by Irina Slav via OilPrice.com,
The Offshore Alliance trade union has called off a strike at two Chevron LNG projects in Australia after the country's labor market regulator mediated a settlement between the parties.
The strike began on September 8 after they failed to reach an agreement with Chevron about working conditions and wage demands.
"The Offshore Alliance will now work with Chevron to finalise the drafting of the agreement and members will soon cease current industrial action," the union said, as quoted by Reuters.
Because of the dispute between Chevron and workers at the Gorgon and Wheatstone projects, LNG prices jumped 35% in August and remain highly volatile as autumn begins and importers step up buying for the winter heating season.
The Gorgon project has a capacity of 15.6 million tons of liquefied natural gas annually, while the Wheatstone facility can produce 8.9 million tons annually. Together, the two account for over 5% of global LNG production capacity, hence the effect on gas prices.
A third Australian LNG project was also under threat of industrial action in August but its operator, Woodside Energy, managed to negotiate a deal with the Offshore Alliance. The North West Shelf is the largest LNG production facility in the country, with a capacity of 16.9 million tons of liquefied gas annually.
Even with the danger of supply disruptions now over, however, the LNG market remains volatile because of the surge in demand from Europe last year as it sought to replace Russian pipeline gas with alternative supplies.
This year, it has been buying gas less frantically but it has filled its gas storage well ahead of schedule and might need to resort to floating storage to lock in more supply for the winter since the available storage does not cover all consumption.
Meanwhile, however, China is stepping up its LNG buying ahead of winter, too, intensifying competition for limited supply.
Tyler Durden
Fri, 09/22/2023 – 08:35
ZeroHedge News
[crypto-donation-box type="tabular" show-coin="all"]