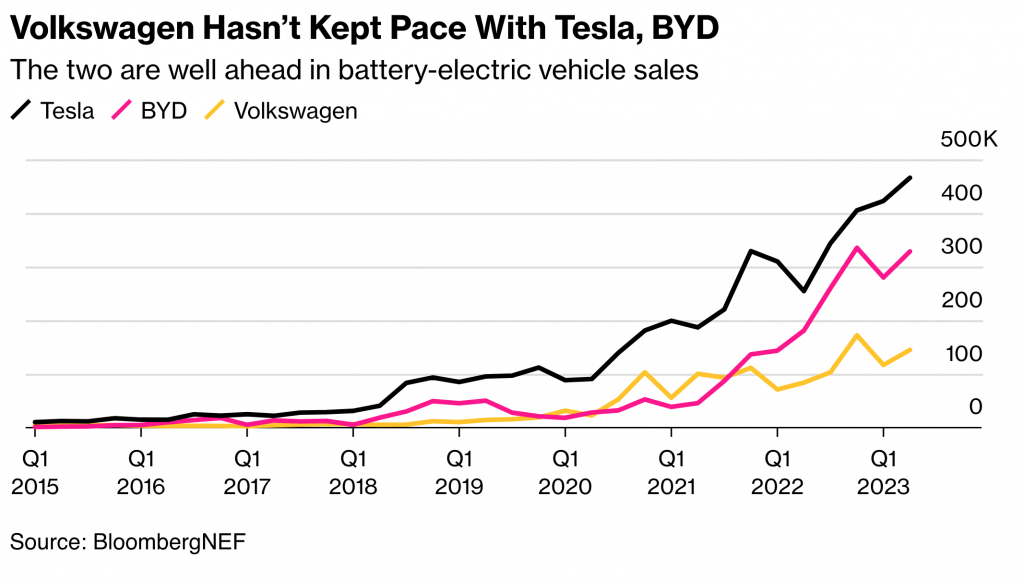 Volkswagen faces mounting pressure to keep up with Tesla and Chinese automakers in the transition to battery-electric vehicles (BEVs), and its success in doing so could have major implications.
During the pandemic, Volkswagen fell behind in the Chinese auto market as companies like BYD, Nio, and Tesla took over, with the competition nearly doubling the market's EV and hybrid offerings (via Bloomberg). Volkswagen's global sales of battery-electric vehicles (BEVs) haven't managed to accelerate as fast as rivals Tesla or BYD, and the threat of growing EV startups also looms.
In the second quarter alone, Tesla delivered 466,140 as the world's top BEV seller, followed by BYD with roughly 328,600 units sold, according to BloombergNEF. Volkswagen had just around 145,000 sales.
Now, as the presence of Chinese automakers and Tesla grows in Europe, Volkswagen is being tested by fierce competition, and the automaker risks severe consequences to the German economy, which is Europe's largest economy. Foreign Minister Annalena Baerbock highlighted the urgency of the situation at the Münich Car Show last week.
"The auto industry is faced with the question of whether and how we will be a global leader in the future," Baerbock said at the event. "For our nation, where the auto industry accounts for a large share of value creation, this is not just an economic issue, but also a question of security."
Tesla's upcoming release of the highly anticipated Cybertruck and its recently refreshed Model 3 Highland are set to increase pressures put on Volkswagen to make appealing BEVs, not to mention the U.S. automaker's lineup-wide price cuts made throughout this year.
Meanwhile, the global EV market is growing rapidly, and BloombergNEF data predicts that BEV sales will nearly rival gas car sales in the global market by 2030, surpassing them altogether by 2031.
Volkswagen hasn't exactly had a smooth introduction to BEVs. In 2015, the company admitted to cheating on emissions standards through the use of its "clean diesel" products, and it later paid out over $9.5 billion in settlement money to vehicle owners. Today, the automaker still hasn't rebounded to pre-pandemic production levels across vehicle segments in Germany.
"Our international competition is not sitting idle," said Hildegard Müller, the auto lobby German Association for the Automotive Industry (VDA) leader. "Our companies are mainly generating their profits abroad, helping to keep jobs in Germany. But the pressure is rising because of weak economic growth and conditions that are no longer internationally competitive."
During the same period of time, Tesla has expanded significantly with the addition of new production facilities in Austin, Texas, within the U.S., and overseas in Shanghai, China and outside of Berlin, Germany. Earlier this year, Tesla also announced plans to debut an upcoming factory in Mexico.
In the last few years, Volkswagen has also seen a shake-up of executive power, with CEO Oliver Blume taking over for former CEO Herbert Diess last fall. Since taking over and retaining his title as head of Porsche, Blume has managed new partnerships and hopes to fix issues at Cariad, the automaker's in-house software developer.
Earlier this week, a German publication reported that Volkswagen's BEV plant in Zwickau, Germany would cut as many as 2,500 jobs, though the automaker hasn't responded to the reports. The Zwickau facility has been exclusively producing BEVs since last January, and it produced a total of 218,000 units last year.
The German automaker also has plans to build a $2 billion BEV factory in South Carolina, which is expected to begin production in 2026. The plant will bring back the Volkswagen Scout as a BEV brand, along with other vehicles in the SUV and pickup segments.
Volkswagen's Scout to build $40K electric SUV in South Carolina
What are your thoughts? Let me know at zach@teslarati.com, find me on X at @zacharyvisconti, or send your tips to us at tips@teslarati.com.
The post Volkswagen faces mounting pressure from Tesla and BYD appeared first on TESLARATI.
News, BYD, Featured, Tesla, Volkswagen
TESLARATI
[crypto-donation-box type="tabular" show-coin="all"]