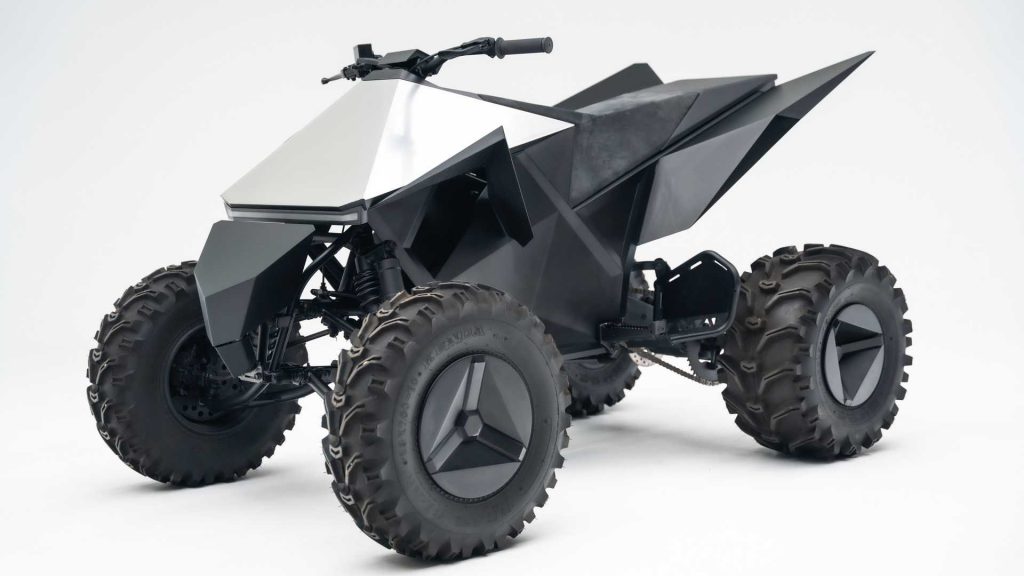 Tesla's U.S.-banned Cyberquad for Kids will look for success in a new market, as the automaker's Chinese division is reportedly set to launch the vehicle.
In China, Tesla is marketing the vehicle as the "Cyberquad Toy Car" and is planning to sell the vehicle in a new market after it was axed from U.S. sales late last year. Priced at ¥11,990, or $1,670, it is already on sale.
The reintroduction of the vehicle was first spotted by Bloomberg.
Once exclusively sold on Tesla's online shop for $1,900, the Cyberquad for Kids is a Radio Flyer-built, 36V lithium-ion battery vehicle for children that has a maximum speed of 10 MPH and can travel 15 miles or more on a single charge.
Based on the Cybertruck, which was unveiled by Tesla in 2019 and is slated to be delivered to customers later this year, the Cyberquad for Kids was designed for kids ages eight and older and who weigh 150 pounds or less.
But the Cyberquad for Kids didn't stay on the market for very long as the United States Consumer Product Safety Commission (CPSC) recalled the vehicle just ten months after it was released as it "fails to comply with the federal mandatory safety standard requirements for youth ATVs, including mechanical suspension and maximum tire pressure."
Tesla's Cyberquad for kids recalled for 'violations of federal safety standard'
The recall was also catalyzed by an incident with a 36-year-old who simultaneously rode the Cyberquad for Kids with an 8-year-old. The Cyberquad tipped over due to the excessive load and the adult got a bruised shoulder.
It also never had an "ATV Action Plan," which is described as " a written plan or letter of undertaking that describes actions the manufacturer or distributor agrees to take to promote ATV safety.
Teslarati reached out to the CSPC to clarify why the Cyberquad for Kids was ever allowed to be sold if it didn't have an approved safety plan. The agency told us that after it discovered one was not in place, it "negotiated a corrective action with the recalling firm" and reiterated that the company building the vehicle is required to submit one before sales or shipment.
Owners were asked to send their vehicle in, where it would be properly disposed of. They would receive up to $50 to cover costs associated with the disposal.
I'd love to hear from you! If you have any comments, concerns, or questions, please email me at joey@teslarati.com. You can also reach me on Twitter @KlenderJoey, or if you have news tips, you can email us at tips@teslarati.com.
The post Tesla's U.S-banned Cyberquad for Kids looks for success in new market appeared first on TESLARATI.
News, Featured, Tesla, Tesla China, Tesla Cyberquad, Tesla Cybertruck
TESLARATI
[crypto-donation-box type="tabular" show-coin="all"]