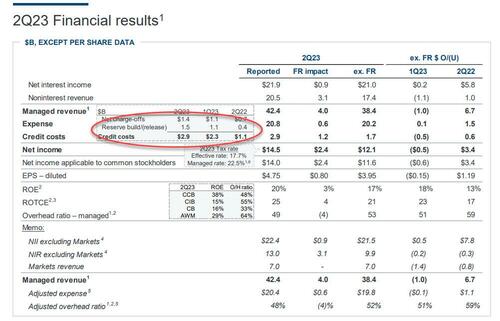 JPMorgan Jumps After Blowing Away Expectations, Raises Guidance Thanks To First Republic Collapse
Q2 earnings season officially started just before 7am ET when JPM reported earnings which, as expected, trounced expectations primarily on the back of generous contributions from the First Republican FDIC/taxpayer bailout-cum-gift, which has helped push the bank's net interest income that much closer to a mindblowing $100 billion.
Here is what JPM reported for Q2:
Reported revenue of $41.3BN and Adj. Revenue $42.40BN, both beating consensus est of $39.34BN, both record high
This was boosted by a record $21.8 billion in net interest income, but it was the massive $2.7 billion gain from the First Republic taxpayer gift that really sent JPM soaring.
Diluted EPS of $4.75 and Adj. EPS $4.37, both beating estimates of $$4.00
Managed Net Interest Income $21.88B, beating estimates of $21.17B
Credit costs of $2.9 billion included a $1.5 billion net reserve build and $1.4 billion of net charge-offs
Average loans up 13%; average deposits down 6%
JPMorgan 2Q Total Deposits $2.40T, Est. $2.44T
JPMorgan 2Q Loans $1.30T, Est. $1.24T
Return on Equity 20%, Est. 16.3%
Standardized CET1 Ratio 13.8%, Est. 13.6%
Looking at the bottom line, JPM reported net income of $13.3 billion and an ROTCE of 23% after excluding a net after-tax gain of $1.8 billion relating to the First Republic transaction (which as we explained in April was really an FDIC-subsidized taxpayer gift to Jamie Dimon), as well as curious investment securities losses of $0.7 billion in the bank's infamous Corporate, aka CIO unit.
That's right: if it hadn't been for First Republic to cover up its mess, JPM would have another mini "London Whale" fiasco on its hands. We are curious what the $900MM pretax loss in investment securities was the result of.
A snapshot of the company's juggernaut revenue growth, just in case it was unclear who the biggest winner from the "crisis" has been:
Digging into the record revenue number, we find that just over half, or $21.8 billion was from net interest income, also a record.
Also of note, JPM reported a jump in Q2 reserve build to $1.5 billion as well as a sharp increase in charge offs to $1.41 billion (more than the $1.40BN expected) and the highest since the covid crash…
… resulting in total credit loss provisions of $2.9 billion, also well above the $2.62 billion estimate.
This raised JPM's total allowance for loan losses to $22 billion, an almost $2 billion increase Q/Q, and one which included  $1.1 billion associated with the First Republic gift from the FDIC.
Here is an attempt to make some sense of normalized numbers:
Net income was up 67%, but up only 40% excluding First Republic.
Net revenue was up 34%, but up only 21% excluding FR.
Net interest income was up 44%, but up only 38% excluding FR.
Get the picture? Almost as if the failure of First Republic was just what Jamie Dimon ordered.
And some more:
Noninterest expense up 11%, but 8% excluding First Republic.
Provision for credit losses was $2.9 billion, but excluding First Republic it was $1.7 billion.
And another huge reason why First Republic was such a gift: the bank's effective income tax rate was down to 17.7% in the quarter, from 20.9% in the first quarter and 20.4% in last year's second quarter.
Why? As the bank explains, "Income taxes associated with the First Republic acquisition are reflected in the bargain purchase gain, resulting in a reduction in the firm's effective tax rate of 3.4 percentage points."
Thank you taxpayers.
Digging into JPM's outlook for card losses, BBG notes that the firm reiterated that for the year it's expecting about 2.6% of those loans to go bad. But so far this year, it's running at a net charge-off rate of about 2.25%: "A big question from analysts might be whether JPMorgan is being conservative with this guidance or its anticipating a big run-up in card losses in the back half of the year." And as a reminder: JPMorgan is the world's largest credit card issuer, so what they see here really matters for the industry.
Commenting on the quarter, Jamie Dimon said that "almost all of our lines of business saw continued growth in the quarter" and noted that "even after the First Republic transaction, we maintained an extraordinarily strong CET1 capital ratio of 13.8% and had $1.4 trillion in cash and marketable securities. While we expect material capital changes with the finalization of Basel III and probable changes to come for bank liquidity, we will manage to any new requirements as we have demonstrated in the past; however, we caution that material regulatory changes would likely have real world consequences for markets and end users."
Dimon was, as usual, cheerful: "The U.S. economy continues to be resilient. Consumer balance sheets remain healthy, and consumers are spending, albeit a little more slowly. Labor markets have softened somewhat, but job growth remains strong. That being said, there are still salient risks in the immediate view—many of which I have written about over the past year. Consumers are slowly using up their cash buffers, core inflation has been stubbornly high (increasing the risk that interest rates go higher, and stay higher for longer), quantitative tightening of this scale has never occurred, fiscal deficits are large, and the war in Ukraine continues, which in addition to the huge humanitarian crisis for Ukrainians, has large potential effects on geopolitics and the global economy."
Dimon concluded by welcoming his "new First Republic colleagues" at least those who weren't immediately fired, and thanked all of our employees who did "an extraordinary job serving our new First Republic clients, and they worked around the clock to onboard an unprecedented number of new clients across all lines of business as a result of the recent banking turmoil. The efforts by our employees also enabled us to extend credit and raise $1.2 trillion in capital in the first half of 2023 for businesses, governments, and U.S. consumers."
Speaking of the First Republic integration, the bank provided the following slide to discuss the progress on that particular taxpayer handout:
Going back to the bank's organic business, there were some solid results in the bank's corporate and investment bank as follows:
FICC Sales & Trading Revenue $4.57B, beating Est. $4.3B, down 3% YoY, "reflecting lower revenue in macro businesses, largely offset by higher revenue in the Securitized Products Group and Credit"
Equities Sales & Trading Rev $2.45B, missing Est. $2.51B, down 20% YoY, "compared with a strong second quarter in the prior year"
Investment banking Revenue $1.49 billion, beating Est $1.38B; the "number is up 11% YoY, but down 7% excluding bridge book markdowns in the prior year."; IB fees down 6% YoY, driven by lower advisory fees
According to Bloomberg, that ensures that this won't go down as the worst quarter for banking in the previous decade for JPM.
On the other side of the ledger, Corp and IBanking expenses rose 1% to $6.9BN "driven by higher non-compensation expense, as well as wage inflation and headcount growth, largely offset by lower revenue-related compensation"
Turning to the bank's asset and wealth management, JPM said it had a record $61 billion of inflows, a record quarterly number and explainable at a time when as the events in March showed there are banks that can fail and then there is JPM.
As a result of the inflows, total assets under management are now up to $3.2 trillion, climbing 16% in the quarter, while client assets of $4.6T were up 20% YoY, "driven by continued net inflows, higher market levels and the impact of the acquisition of Global Shares"
Perhaps the most remarkable figure around the asset and wealth management business was the pre-tax margin: a whopping 33%.
Next, we look at the JPM commercial bank: while the provision for credit losses was $1.1 billion, more than half of that is tied to the First Republic portfolio. The remainder was driven by what the bank calls "updates to certain assumptions related to office real estate" with JPM disclosing $100MM in NCOs "predominantly driven by office real estate."
Some more stats: the headcount at the largest US bank has now passed 300,000. The biggest US bank's staff hit 300,066 people, up 1% from 296,877 in the first quarter of the year, and up 8% from 278,494 a year ago. How big is that? As Bloomberg puts it, while companies aren't cities, if JPMorgan were one it would be one of the biggest in the US, it's now about the size of St. Louis.
But wait, there's more: in the footnotes in the bank's earnings supplement, we find detail that shows just how big this bank really is: That new headcount stat "excludes 5,132 individuals associated with the First Republic acquisition who became employees effective July 2, 2023." So, next quarter, the total number is poised to climb even more.
As we said last quarter, it was only a matter of time before the First Republic gift sent JPM's net interest income soaring, and in addition to the record Q2 print, JPMorgan also lifted its guidance for NII excluding its trading business to $87 billion for the full year, up from the $84 billion it predicted at its investor day in May. At this rate it will hit a mindblowing $100 billion within a year or two, and certainly faster if any more banks "fail."
Bloomberg Intelligence's Alison Williams expects JPMorgan's increased guidance for 4% higher core net interest income to drive revenue and EPS estimates up for 2023. An upside to NII implies a 2% lift to 2023 revenue, she says.
No surprise then that between JPM's blowout earnings (thank you First Republic and taxpayers) as well as solid earnings by Wells and Citi, the bank's stock price was some 2.7% higher in pre-market trading as investors breath a sigh of relief for 2Q results that have been steeped in pessimism, and which we warned would likely send stocks even higher due to very low bars to beat, of which JPM was a clear example.
JPM's full earnings presentation is below (pdf link).
Tyler Durden
Fri, 07/14/2023 – 09:02
ZeroHedge News
[crypto-donation-box type="tabular" show-coin="all"]