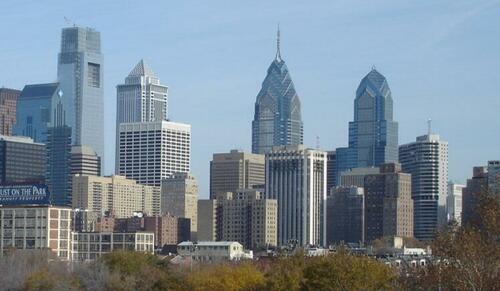 In Allegheny County, Progressives Are Now The Establishment
Authored by Zach Kennedy via RealClear Wire,
A political powerhouse now rivaling Philadelphia as the bedrock of Democratic electoral strength in Pennsylvania, Allegheny County has been consistently trending more progressive. This past May's primaries in Pennsylvania's second-largest county added another layer of icing on a cake that's been baking for nearly a decade: in Allegheny County, progressives are the new establishment.
The seeds of progressive ascendance were planted in 2018's Democratic primary, when Summer Lee toppled 20-year incumbent state Rep. Paul Costa, the brother of longtime state Senate Democratic leader Jay Costa. It was the first major win for Allegheny County progressives. In that same primary, Sara Innamorato bested ten-year incumbent state Rep. Dom Costa, a former Pittsburgh police chief and another member of the Costa political family. Both Lee and Innamorato were endorsed by the Democratic Socialists of America.
The following year, 2019, saw state Rep. Adam Ravenstahl, a four-term incumbent and brother of former Pittsburgh mayor Luke Ravenstahl, fall in the Democratic primary to 32-year-old challenger Emily Kinkead, while 20-year incumbent county councilman at-large John DeFazio lost his primary to Bethany Hallam, who campaigned on fracking bans and reforming the Allegheny County jail.
These progressive victories put the "establishment" on notice. In Pittsburgh, Ed Gainey's 2021 mayoral primary win over two-term incumbent Bill Peduto solidified the rise of the party's left flank, which was further bolstered by Lee's 2022 primary victory to succeed 28-year incumbent U.S. Rep. Mike Doyle. Lee was quickly anointed to "The Squad" in Congress, joining the ranks of Alexandria Ocasio-Cortez and Rashida Tlaib.
The progressive trend continued in May of this year, when Innamorato defeated longtime county treasurer and darling of the blue-collar trade unions John Weinstein, as well as 15-year incumbent city controller Michael Lamb (uncle of former U.S. Rep. Conor Lamb) for the Democratic nomination for county executive, the most powerful job in Western Pennsylvania. Innamorato cruised to victory on the back of endorsements from progressive politicians and labor groups such as U.S. Bernie Sanders and the SEIU.
The primary also saw public defender Matt Dugan defeat longtime district attorney Stephen Zappala Jr., propelled by nearly seven-figure support from progressive billionaire George Soros. Erica Brusselars defeated two-term city councilman and longtime ward leader Anthony Coghill for the Democratic nomination for county treasurer, scoring endorsements from left-leaning organizations such as the Pittsburgh Federation of Teachers and the Young Democrats of Allegheny County.
And last summer saw establishment stalwart and chair of the county Democratic Party, Eileen Kelly, replaced as chair by Sam Hens-Greco, former chair of the powerful 14th Ward, the largest ward in the county and one of the most progressive. Hens-Greco's running mate and now vice chair of the county Democratic Party, Morgan Overton, was the first black woman to chair the Young Democrats of Allegheny County.
Allegheny County progressives now hold the mayor's office, the 12th District congressional seat encompassing the city of Pittsburgh, and the power structure of the county Democratic Party – and they are heavily favored to win the county executive and district attorney positions this fall. Taken together, these holdings constitute control over the region's most influential elected positions.
Since 2018, we have seen a complete paradigm shift in Allegheny County politics, with progressives notching win after win and consistently taking more power from the party's onetime establishment. After years of political organizing, the progressive wing has turned itself into the new establishment in Allegheny County government and politics.
Time will tell how long the progressive trend continues, but one thing is certain: as they struggle with problems ranging from a declining population to rising crime, homelessness to food insecurity, Allegheny County residents are in desperate need of strong leadership from their elected officials. The new progressive establishment will be expected to deliver results.
Zach Kennedy, a former Democratic operative, is a Pittsburgh native and has worked on high-level judicial, state, and federal campaigns in Pennsylvania.
Tyler Durden
Fri, 07/14/2023 – 18:20
ZeroHedge News
[crypto-donation-box type="tabular" show-coin="all"]