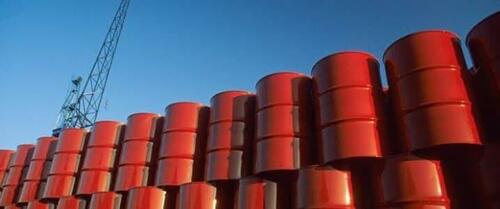 Future Of Oil Demand Is Brighter Than You've Been Told
By Julianne Geiger of OilPrice.com
Oil demand's future is rosier than the common narrative would have you believe, according to a report released today by Energy Outlook Advisors.
According to energy analyst and the report's author Anas Alhajji, the hope that oil demand will decrease as the world transitions to clean energy is built on a lot of hype and wishful thinking.
China—the world's largest investor in renewable energy—and India still use coal as the primary source of electricity generation. As these countries add green energy, it will have minimal effect on oil demand, if any at all, the report suggests.
Countries like China and India may have plans to continue adding solar, wind, and other clean energy sources, but economic growth continues to lap up the additions, meaning oil and even coal are unlikely to be displaced anytime soon. 
As seen in the report's chart below, as global energy consumption increases—and even as solar, wind and other renewable energy sources increase their share of the total consumption—oil and gas demand continues to increase, with historical demand blips seen courtesy of high prices, not green energy policies.
According to the report, 82% of the energy consumed in 2022 came from fossil fuels, despite the trillions thrown at renewable energy since 2010. For China specifically, the report estimates that it would take China 211 years at the current rate of renewable spending to achieve carbon neutrality. India will take even longer, at more than 400 years.
In May, the IEA estimated that $2.8 trillion would be invested globally in energy this year, with more than $1.7 trillion of it headed clean energy's way. Still, more than $1 trillion was thought to be spent on fossil fuels, including coal. At the time, the IEA estimated that clean energy investment would rise 24% between 2021 and 2023, compared to a 15% increase in fossil fuel investments. The IEA's overall stance was that investments in clean energy is "significantly outpacing spending on fossil fuels".
Nevertheless, economic and population growth continues to drag down the rate at which renewable energy is snapping up marketshare, and the data shows that little headway is being made. 
According to Energy Outlook Advisors, most countries will fail to reach their net-zero or carbon neutrality targets 2050.
Tyler Durden
Fri, 07/14/2023 – 15:00
ZeroHedge News
[crypto-donation-box type="tabular" show-coin="all"]