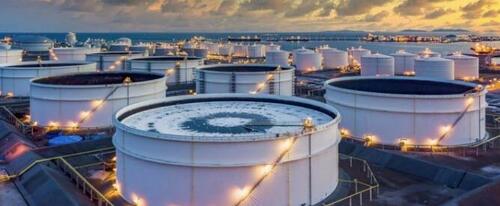 US Strategic Petroleum Reserve Will Not Be Replenished Anytime Soon
Authored by Tsvetana Paraskova via OilPrice.com,
The U.S. Administration will refill the Strategic Petroleum Reserve (SPR), which saw millions of barrels of drawdowns last year, but the reserve will not be filled up soon, U.S. Secretary of Energy Jennifer Granholm told CNN in an interview this week.  
"The bottom line is we are going to replenish," Granholm said, adding that it was unlikely that the refill would be completed before the end of the term in office of President Joe Biden.
"The first term's over in a year and a half. So, I'm not sure it'll be fully replenished. But certainly, the plan is this term and the next term to be able to do that," Granholm told CNN.
In October of last year, the administration announced that it would repurchase crude oil for the reserve when prices were at or below about $67-$72 per barrel.
The move would be dual purpose in that not only would it replenish the nation's depleted reserves, but it would boost demand when prices were low instead of sending them into orbit at a time of regular prices.
Last week, the U.S. Department of Energy announced that it plans to purchase by August 2023 around 6 million barrels of crude oil for the SPR, with delivery scheduled for October and November.
So far, the Biden Administration has bought 6.3 million barrels at an average price of $72.67 per barrel, compared to around $95 per barrel that SPR crude was sold for in 2022, DOE said.
Earlier this year, Secretary Granholm had suggested that the Administration would start repurchasing crude oil for filling the SPR in the autumn of this year and that the refilling could take years.
[ZH: Bear in mind that the Biden admin has been draining the SPR for 15 straight weeks…]
The Administration has previously said that repurchases could begin in the fourth quarter of this year after maintenance is completed on two sites storing the nation's crude oil reserves in Texas and Louisiana.
Tyler Durden
Thu, 07/13/2023 – 12:50
ZeroHedge News
[crypto-donation-box type="tabular" show-coin="all"]