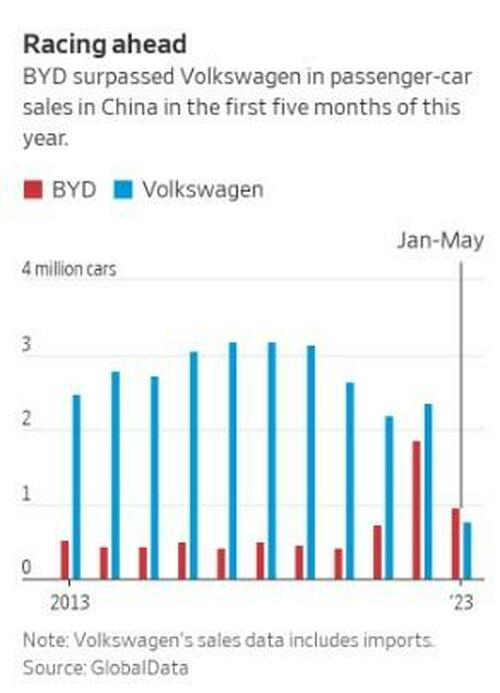 China's Domestic Automakers Dethrone Western Competition After Decades Of Dominance
In China, domestic automakers are starting to overtake Western companies, marking a big win for Beijing's domestic industrial policies and signaling the potential end to decades of dominance by Western automakers.
In fact, local auto brands produced in China made up 54% of the wholesale car market for the first half of 2023, The Wall Street Journal noted earlier this week. This is up from 48% a year prior and marks the second 6 month period wherein local brands have surpassed foreign ones in a row. 
It's no secret that NEVs are leading the charge for China's home grown vehicles. We noted just days ago that NEV sales in China were up 25.2% YOY, totaling 665,000 units. Passenger vehicle output fell 0.5% YOY but was up 10.3% sequentially, coming in at 2.2 million units. 
9 of China's 10 best selling electric vehicles makers were local companies, led by BYD, the Journal reported. Tesla was the only foreign automaker on the EV Top 10. The country's focus on EVs since 2009 has turned it from a global "follower" to a global "leader" in the industry. 
Stephen Dyer, a Shanghai-based auto consultant at AlixPartners, told WSJ other other automakers would have to learn from China's developing trend if they want to find success in the market.
Many Western companies started to step away from China after its auto market peaked in 2017. ICE vehicle sales had fallen by about 8 million vehicles by 2022, following this peak and as a result of demand compression from Covid amid a shift to NEVs.
Ford has since reduced investments in China since its Mach-E wasn't as successful as originally planned in the country.
And Honda's Chief Operating Officer Shinji Aoyama commented earlier this year: "Japanese, American and European automakers all have this sense that they were too late to make the initial moves. We're now in a phase of trying our best to catch up."
Volkswagen is preparing a push in China and is looking to hire 2,000 developers, as well as speeding up its product cycle in the country. 
China helped catalyze its robust EV market by subsidizing local manufacturers and tightening emissions standards. At one point, only EVs with Chinese-made batteries were eligible for government subsidies. The country also created a nationwide charging network. In 2015, the country has aspirations of becoming the global EV leader by 2025, outlining even more tax incentives and policy prescriptions. 
In total, WSJ reports that the country spent roughly 1.25 trillion yuan, equivalent to about $173 billion, to help boost its NEV sector. 
Now, about 1 in 6 vehicles on the road in Beijing sport "green" number plates, indicating they are NEVs. 45% of vehicles sold in Shanghai so far in 2023 were electric or plug-in hybrids. 
And the same firms having success domestically in China are attempting to expand from the country. For example, Chinese carmakers have helped the country surpass Japan in Q1 2023 as the largest exporter of vehicles. China exported 1.1 million vehicles in Q1, although about 75% of those exports were still traditional ICE vehicles. 
Tyler Durden
Thu, 07/13/2023 – 05:45
ZeroHedge News
[crypto-donation-box type="tabular" show-coin="all"]