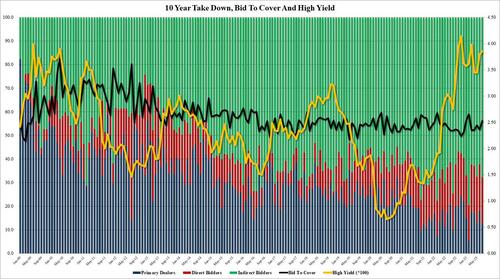 Stellar 10Y Auction Tails As Yields Plunge Across The Curve
After a stellar 3Y auction yesterday, today – just hours after the clearly dovish CPI print sent yields tumbling – we got a sale of $32BN in benchmark 10Y paper. Perhaps because of the sharp spike in prices and lack of concessions, the auction was not as strong as it could have been but it was still rather impressive.
Stopping at a high yield of 3.857%, the auction priced 6.6bps above last month's, and was the highest going back to March when the yield rose to 3.985%; the auction also tailed the When Issued 3.847% by 1 basis point – this was the 5th consecutive tail for a 10Y auction, and the 17th tailing auction of the past 21.
While there may have been some headline weakness, it was nowhere to be seen at the bid to cover level, which rose to 2.53 from 2.36 in June and the highest since February; it was also well above the recent average of 2.45.
The internals were also impressive with Indirects awarded 67.7, the highest since February's record 79.5%, well above last month's 62.3% and well above the recent average of 66.9%. And with Directs awarded 19.9%, the exact same as last month, Dealers were left with 12.4%, the lowest since Feb and one of the lowest on record.
Overall, this was an impressive auction, and despite the modest tail the result of a sharp drop in yields, the internals were stellar across the board.
Tyler Durden
Wed, 07/12/2023 – 13:20
ZeroHedge News
[crypto-donation-box type="tabular" show-coin="all"]