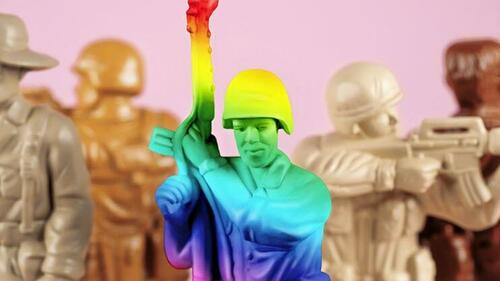 Biden Admin Opposes Provision Requiring Military Promotions Only Be On Merit (Not Gender, Or Race)
Authored by Steve Watson via Summit News,
The Biden administration has issued a statement outlining its opposition to a provision within the latest military spending bill that would require promotions within the military to be based only on merit, rather than on completely unrelated aspects such as gender and race.
The statement from the Office of Management and Budget (OMB) reads "The Administration strongly opposes the House's sweeping attempts (sections 364, 523, 566, 595, 596, 598, 904, and 1046) to eliminate the Department's longstanding DEIA efforts and related initiatives to promote a cohesive and inclusive force."
"As articulated in the 2022 NDS, one of the Department's top priorities is building a resilient Joint Force and defense enterprise," it adds, by which it means filling the military with LGBTQ+ people like 'Admiral' Rachel Levine and Major Rachel Jones.
The statement continues, "DoD's strategic advantage in a complex global security environment is the diverse and dynamic talent pool from which we draw. We rely on diverse perspectives, experiences, and skillsets to remain a global leader, deter war, and keep our nation secure."
It then argues that only promoting people based on merit will somehow diminish the DoD's ability to maintain "a dignified, respectful, and safe workplace."
"Legislation that reduces DoD's ability to create a positive work environment and fully leverage the best our nation has to offer puts the Department at a strategic disadvantage," the statement claims.
Surely promoting the people who are best at their jobs and the most professional within the military makes the nation more secure? No?
.@RepJimBanks: "It's incredibly dangerous that the Biden administration is opposed to merit based promotions. When our service members are in life or death situations, we need the best leaders, period." https://t.co/hBQrUZTKDV
— Kristina Wong 🇺🇸 (@kristina_wong) July 11, 2023
"Shorthand for 'diversity, equity, and inclusion,' DEI is a poisonous ideology that's dismissive of merit and discriminates based on characteristics such as skin color and sexual orientation."
Biden's woke DEI agenda has no place in our military.https://t.co/uFODrwcfGF
— Brian Babin (@RepBrianBabin) July 11, 2023
There is no place for wokeness in our military! pic.twitter.com/LDnZ7nTjsA
— Jim Banks (@RepJimBanks) July 11, 2023
GOP Rep. Jim Banks is behind the push to eliminate the DEI madness from the military, noting that he also added a provision to defund the Navy's 'Drag Queen program'.
We are using the NDAA to get rid of wokeness at the Pentagon!
-slashing DEI pay
-requiring merit-based promotions
-eliminating chief diversity officer
-reinstating servicemembers who didn't take COVID vax
-defunding Navy Drag Queen program
-banning CRThttps://t.co/xFmparyvsl
— Jim Banks (@RepJimBanks) July 11, 2023
Rep. Banks also added a provision into the spending bill that would see unvaccinated service members reinstated, and guess what… the Biden administration also opposes that.
NEW: The White House is taking issue with Republican-led provisions in the FY24 NDAA. @RepJimBanks says admin's opposition to reinstating unvaxxed service members "is nothing more than an attempt to punish religious people and conservatives."https://t.co/eE5icZEvnJ
— Kelly Laco (@kelly_laco) July 11, 2023
Tells you everything you need to know about the Biden admin…https://t.co/uSs6U1T1lh
— Jim Banks (@RepJimBanks) July 11, 2023
As we have previously highlighted, the Biden administration is OBSESSED with pushing the DEI agenda in every department of government to the point where they are hiring mentally ill people just because they are transgender or LGBTQ+:
*  *  *
Brand new merch now available! Get it at https://www.pjwshop.com/
In the age of mass Silicon Valley censorship It is crucial that we stay in touch. We need you to sign up for our free newsletter here. Support our sponsor – Turbo Force – a supercharged boost of clean energy without the comedown.
Also, we urgently need your financial support here.
Tyler Durden
Wed, 07/12/2023 – 15:45
ZeroHedge News
[crypto-donation-box type="tabular" show-coin="all"]