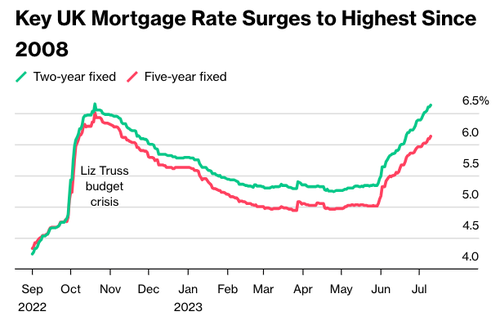 Key UK Mortgage Rate Hits 6.66%, Highest Since 2008 Meltdown
UK mortgage costs have hit levels not seen in 15 years after the average rate of the two-year fixed deal exceeded the chaotic Liz Truss mini-budget peak on Tuesday.
Bloomberg cited mortgage data from Moneyfacts that shows the average rate for a fixed two-year home loan increased to 6.66%, up from 6.63% on Monday. This is the highest rate since the 2008 financial meltdown and surpassed the 6.65% peak in the aftermath of the mini-budget during Liz Truss's brief premiership in October. 
The average interest rate for five-year deals is 6.17%, lower than the 6.51% peak set last year.
Homeowners are reeling from the soaring cost of shelter, with millions of mortgage deals set to expire in the second half of this year. People coming off fixed deals are set to pay hundreds of pounds more per month amid the worst inflation crisis in a generation. 
Charlotte Nixon, mortgage and financial planning expert at Quilter, told Yahoo Finance:
"The chaos in the mortgage market is hitting house prices and this is going to cause some uncertainty over the rest of the year as servicing costs become harder to manage and affordability is tested to its limits.
"For those who have a fixed rate deal ending in the next six months, the message is clear — act now or you could face exorbitant costs on the standard variable rate that you will default on to."
Over in parliament today, MPs on the Treasury Committee have been questioning mortgage companies about soaring rates, home prices, and forbearance. 
Bradley Fordham, mortgage director at Santander UK, told the committee that customers coming off a 2.3% rate could face upwards of £350 per month increase in mortgage payments. This interest rate shock will produce higher shelter costs and could crimp consumer discretionary spending.  
Meanwhile, high mortgage costs have led to a downdraft in home prices this year. A Bloomberg model shows prices are set to slide even further. 
Lender Halifax pointed out last month that UK house prices recorded their first annual contraction in May since 2012. 
Niraj Shah, an economist at Bloomberg Economics, wrote in a report, "Britain's housing market correction has further to run." 
Shah continued, "The fastest pace of policy tightening since the 1980s, permanently higher mortgage rates and stalling real incomes mean the slow grind lower in property prices is likely to persist."
Rapid policy tightening is due to the Bank of England's war on inflation, which remains stubbornly high and has triggered a cost-of-living crisis. Traders are betting the BoE will continue raising interest rates through 2023, with a terminal rate of around 6.3% by spring 2024. 
Further interest rate increases by the central bank suggest mortgage costs will go higher and could hit a 25-year high by early next year, pushing average mortgage rates past 7%. 
Deutsche Bank's Jim Reid recently concluded: "The UK housing market is in for a huge amount of pain ahead." 
We have previously noted that the UK is actively bailing out distressed homeowners as mortgage expenses skyrocket. DB's Reid is correct. A whole lot of pain nears. 
Tyler Durden
Tue, 07/11/2023 – 07:45
ZeroHedge News
[crypto-donation-box type="tabular" show-coin="all"]