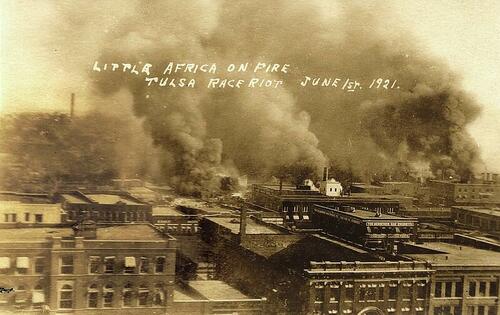 Judge Tosses Reparations Lawsuit Stemming From Tulsa Riots
An Oklahoma judge on Friday dismissed a lawsuit demanding reparations for African-Americans involved in the 1921 riots in Tulsa, which came to be known as the "Tulsa Race Massacre."
This postcard provided by the Department of Special Collections, McFarlin Library, The University of Tulsa shows fires burning during the Tulsa Race Massacre in Tulsa, Okla. on June 1, 1921. (Department of Special Collections, McFarlin Library, The University of Tulsa via AP)
Judge Caroline Wall sided against three survivors of the attack who are all over 100 years old and sued in 2020 in the hopes of seeing "justice in their lifetime," according to their attorney, ABC News reports.
Tulsa Mayor G.T. Bynum said in a statement that the city has yet to receive the full court order. "The city remains committed to finding the graves of 1921 Tulsa Race Massacre victims, fostering economic investment in the Greenwood District, educating future generations about the worst event in our community's history, and building a city where every person has an equal opportunity for a great life," he said.
A lawyer for the survivors — Lessie Benningfield Randle, Viola Fletcher and Hughes Van Ellis — did not say Sunday whether they plan to appeal. But a group supporting the lawsuit suggested they are likely to challenge Wall's decision. –ABC News
"Judge Wall effectively condemned the three living Tulsa Race Massacre Survivors to languish — genuinely to death — on Oklahoma's appellate docket," said the group, Justice for Greenwood, in a statement following the decision. "There is no semblance of justice or access to justice here."
In her brief order, Wall, a Tulsa County District Court Judge, threw the case out based on arguments from the city, the regional chamber of commerce, and other state and local government agencies – after initially denying a motion to dismiss from the defendants.
The lawsuit was brought under Oklahoma's public nuisance law, in which the plaintiffs claimed that the white mob which killed hundreds of black residents and destroyed their business district continue to affect the city today.
It contended that Tulsa's long history of racial division and tension stemmed from the massacre, during which an angry white mob descended on a 35-block area, looting, killing and burning it to the ground. Beyond those killed, thousands more were left homeless and living in a hastily constructed internment camp.
The city and insurance companies never compensated victims for their losses, and the massacre ultimately resulted in racial and economic disparities that still exist today, the lawsuit argued. It sought a detailed accounting of the property and wealth lost or stolen in the massacre, the construction of a hospital in north Tulsa and the creation of a victims compensation fund, among other things. -ABC News
An attorney for the Chamber of Commerce acknowledged that while the massacre was horrible, the nuisance it caused was not ongoing.
Tyler Durden
Mon, 07/10/2023 – 22:00
ZeroHedge News
[crypto-donation-box type="tabular" show-coin="all"]