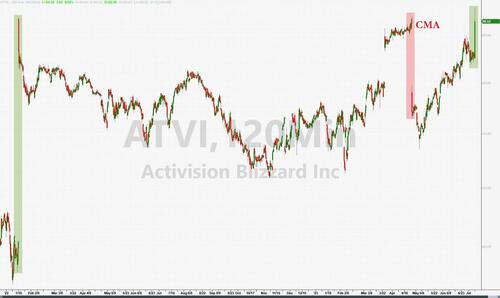 Activision Shares Soar After US Court Rules Against FTC In Microsoft Deal
In a somewhat surprising ruling, Microsoft  won a court's okay to move forward with its $69 billion deal to buy Activision Blizzard, defeating an effort by Biden's Federal Trade Commission to block the largest ever gaming deal.
The decision by Judge Jacqueline Scott Corley in San Francisco means Microsoft can seek to close its merger with Activision ahead of a July 18 deadline everywhere except for the UK, which vetoed the deal in May.
ATVI shares surged back above pre-CMA-ruling levels on the news but remain well below the $95 deal level…
"Our merger will benefit consumers and workers. It will enable competition rather than allow entrenched market leaders to continue to dominate our rapidly growing industry," said Activision CEO Bobby Kotick in a written statement.
Near the close of the hearing, as The Wall Street Journal reports, Corley said the FTC had already achieved a victory for consumers because of promises Microsoft made to some rivals as it sought to clear a path for the Activision Blizzard deal to go through.
"In many ways you won," Corley told the FTC's lead trial attorney on the case, James Weingarten.
"I don't think we won," Weingarten responded, saying there was no evidence that the "hastily agreed to" contracts would sufficiently protect the market.
Perhaps most notably, it is the first defeat for Lina Khan and her seemingly over-zealous corporate-merger-crushing regime…
"We are disappointed in this outcome given the clear threat this merger poses to open competition in cloud gaming, subscription services, and consoles. In the coming days we'll be announcing our next step to continue our fight to preserve competition and protect consumers," FTC spokesman Douglas Farrar said in an email.
Since President Joe Biden appointed her to helm the agency in June 2021, the FTC has killed mergers between Lockheed Martin Corp. and Aerojet Rocketdyne Holdings Inc. as well as Nvidia Corp.'s bid to buy SoftBank Group Corp.'s Arm.
Tyler Durden
Tue, 07/11/2023 – 11:12
ZeroHedge News
[crypto-donation-box type="tabular" show-coin="all"]