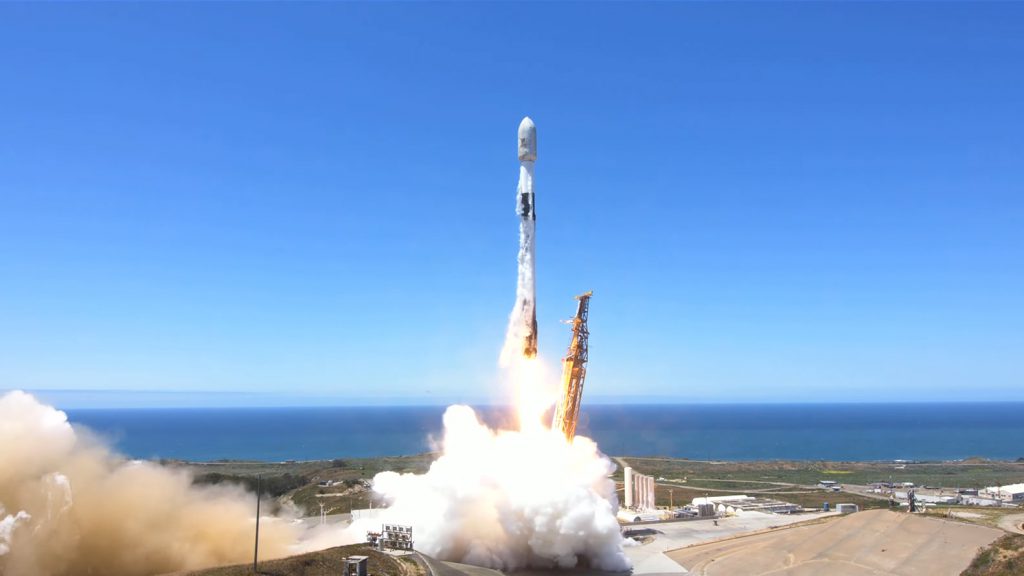 SpaceX will launch 48 version 1.5 Starlink satellites to low Earth orbit from Space Launch Complex 4 East at Vandenberg Space Force Base in California on Friday, July 7th at 12:29 p.m. PT (19:29 UTC).
The 48 Starlink satellites will launch on a 43-degree orbital inclination and are a part of Group 5-13. This will be the 43rd Falcom 9 launch so far this year and the 45th mission overall of 2023.
Targeting Friday, July 7 for Falcon 9's launch of 48 @Starlink satellites to low-Earth orbit from SLC-4E in California → https://t.co/bJFjLCiTbK
— SpaceX (@SpaceX) July 6, 2023
With this launch, SpaceX will bring its total number of Starlink sattelites launched to 4,746, 177 of which were launched last month. This pace has made SpaceX the world leader in mass to orbit and a company that proves time and again the advantages of reusability. This will be the 99th orbital launch worldwide, with SpaceX being responsible for nearly half with 45 launches.
Launching this batch of Starlink satellites will be Booster 1063 on its 12th flight, seven of which were Starlink missions. B1063 will launch to the South, parallelling the coast of California. The first stage and second stage will separate two and a half minutes into the flight, then the second stage will perform a dog-leg maneuver to send itself over the Baja Peninsula of Mexico and the proper 43-degree orbital inclination.
While 2nd stage is heading to low Earth orbit, the first stage will aim for the droneship "Of Course I Still Love You" which is stationed in the Pacific Ocean ~668 km downrange. The first stage will land at approximately the same time as the second stage cut-off just under nine minutes into the mission, then following a 10-minute coast phase, the 48 satellites will then separate from the second stage and make their way to their operational orbit.
Watch the launch of 48 Starlink satellites below!
Questions or comments? Shoot me an email at rangle@teslarati.com, or Tweet me @RDAnglePhoto.
The post SpaceX set to launch 48 Starlink satellites from California appeared first on TESLARATI.
News, Space, SpaceX, Falcon 9, Featured, SpaceX Starlink, Starlink
TESLARATI
[crypto-donation-box type="tabular" show-coin="all"]