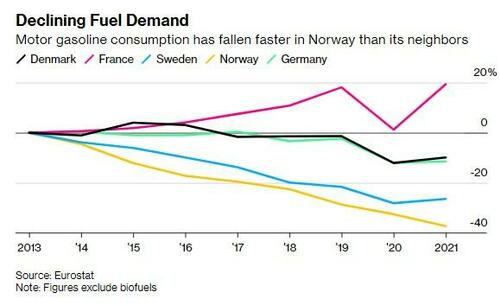 Despite Intense EV Adoption, Norway Can't Shake Its Addiction To Diesel And Other Fossil Fuels
"In Norway, the sale of new electric cars has gone from 3% in 2012, to almost 80% in 2022," Christina Bu, the secretary general for the Norwegian Electric Vehicle Association told Bloomberg this week.
"I think the rest of the world must learn from this and realize that this change is going to happen," Bu added. 
Despite those numbers, the country is finding it awfully difficult to quit fossil fuels entirely, the report says. It's almost like petroleum, oil and gas have uses outside of sedans. Go figure.
The country has been labeled a "trailblazer" as it relates to making the switch to EVs. Norway is sacrificing $1.8 billion per year in order to try and help make the transition.
But the transition also "highlights the limitations of electric cars when it comes to curbing overall consumption of fossil fuels and achieving net-zero emissions," the report says. More than 20% of the country's autos are now battery powered, resulting in lower consumption of gas for the nordic country. 
But the report notes that diesel still accounted for 43% of the distance covered in the country and that heavier trucks are "still predominantly running on diesel".
Norwegian Road Federation Director Oyvind Solberg Thorsen detailed to Bloomberg that consumption of diesel is just 10% below its 2015 peak, despite the strides battery powered vehicles have made. 
Bjarne Schieldrop, chief commodities analyst at SEB AB, added: "If you want to drive a truck, if you want to operate a mining machine, if you want to get things done in the world economy, then you need diesel."
And Bloomberg notes that neighboring countries have seen their oil consumption per capita fall faster than Norway, despite the country's adoption of EVs. 
Norway's Minister of Petroleum and Energy Terje Aasland commented: 
"We are surrounded by different products and systems that mean we need petroleum products, and where there isn't an easy replacement. So we will still need oil for industrial purposes, even if we cut fossil fuel inputs into the transport sector."
In fact, ironically, Aasland, who owns a Tesla and an Audi e-Tron, has been urging Norwegian companies to "leave no stone unturned" in searching for oil and gas reserves. 
Read Bloomberg's full report here.
Tyler Durden
Sat, 07/08/2023 – 07:35
ZeroHedge News
[crypto-donation-box type="tabular" show-coin="all"]