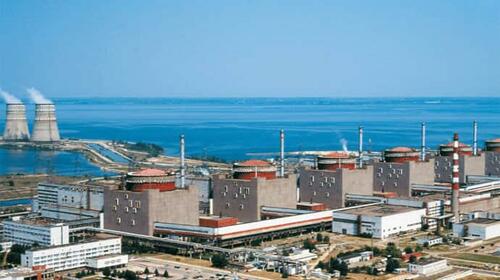 Ukraine Spy Chief Says Threat To Zaporizhzhia Nuclear Plant Subsiding
Authored by Dave DeCamp via AntiWar.com,
Ukraine's military intelligence chief, Kyrylo Budanov, said Thursday that the threat to the Russian-controlled Zaporizhzhia Nuclear Power Plant (ZNPP) is subsiding.
Ukrainian officials have been claiming without evidence that Russia planted explosives at the ZNPP and were warning an attack was imminent. But the International Atomic Energy Agency (IAEA) said Wednesday its experts at the plant saw no signs of explosives, although the agency was asking for more access.
Budanov said the alleged Russia threat was "decreasing" but wouldn't offer any details.
"Sorry I can't tell you what happened recently but the fact is that the threat is decreasing," he said. "This means that at least we have all together with joint efforts somehow postponed a technogenic catastrophe."
Russian officials were also accusing Ukraine of plotting an attack on the ZNPP, which has been controlled by Russia since March 2022.
A Russian nuclear advisor claimed Ukrainian forces planned to fire missiles at the plant stuffed with radioactive material on July 5, but the attack never happened.
The Kremlin has accused Zelensky and his officials of lying…
Zelensky lying to drag NATO into direct conflict with Russia🇷🇺?
The IAEA's Director General Grossi says there was no evidence of mining of the Zaporizhzhia Nuclear Power Plant, which directly refutes Zeleneksy's claim that bombs have been planted by Russian forces. pic.twitter.com/Ro3Zes52sg
— Going Underground (@GUnderground_TV) July 5, 2023
The ZNPP has been the scene of fighting throughout the war as Ukraine launched failed attacks on the plant to recapture the facility last fall. At the time, Ukraine blamed shelling on the Russian-controlled plant on Russian forces.
Tyler Durden
Fri, 07/07/2023 – 14:20
ZeroHedge News
[crypto-donation-box type="tabular" show-coin="all"]