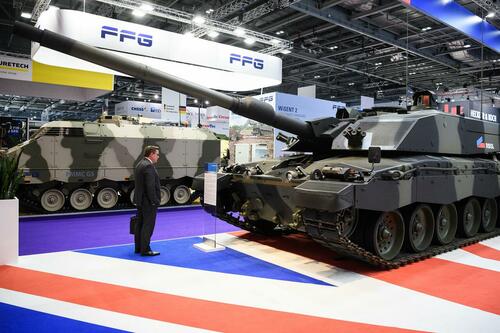 UK Talks Tough On War With Russia, While Admitting It's Dangerously Low On Tanks
Through the Russia/Ukraine crisis the UK government has been among the most bellicose in urging Ukraine to fight Russia to the last man. UK politicians openly talk about being "at war" with Russia.
But on Wednesday Admiral Sir Tony Radakin, UK Chief of the Defence Staff broke the bad news to tough-talking UK: They have no tanks! They have no army! It was all just bluster! Also today, CNN puzzled by anyone opposing government censorship. Watch today's Liberty Report:
The top UK defense chief indeed painted a very bleak picture regarding Britain's war readiness in testimony in the House of Commons this week.
"A Defence Committee meeting in the House of Commons yesterday afternoon heard the UK has just 40 tanks and roughly a dozen frigates and destroyers ready for war," one report on his words underscored. "With the Russian-Ukrainian conflict continuing, military figures are urging for larger stockpiles."
The top admiral confirmed that Britain is 'investing like crazy' in armored vehicles – but these won't be available till the end of the decade. Below is a summary of Adm. Radakin's words and key statements via The Daily Mail: 
On paper, the UK has around 200. But of these, only 40 are ready to go to war, it emerged yesterday.
Sir Tony responded that Britain was 'investing like crazy' in armoured vehicles which will be available by the end of this decade.
He also told MPs: 'We were at 19 frigates and destroyers, which we subsequently reduced that to 17 because some of those ships were very expensive. 
'You've then got some in maintenance and refit so it is probably 11 or 12 which are available to go out on operations.'
Sir Tony added: 'It is true across the Armed Forces, we need to have deeper stockpiles. So I wouldn't say I was happy.' 
Fight Russia? Britain has just 40 tanks and around a dozen frigates and destroyers ready to go war – the lowest figures in modern times https://t.co/7uscgIkzAC
— KulganofCrydee (@KulganofCrydee) July 5, 2023
Ironically it has been the UK which has been the most outspoken among the Western allies regarding supplying Ukraine not only with tanks, but most recently warplanes as well. The United Kingdom was the first to send tanks and other heavy weaponry into the conflict.
So far Britain has given Kiev at least 14 of its Challenger 2 tanks, and likely this won't be the end of it — the UK military's warnings to politicians of severe shortages in defense equipment notwithstanding.
Tyler Durden
Fri, 07/07/2023 – 04:15
ZeroHedge News
[crypto-donation-box type="tabular" show-coin="all"]