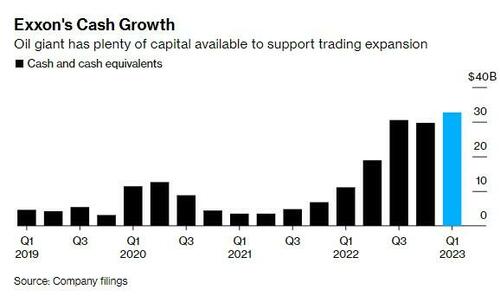 Exxon Struggles To Attract Trader Talent, Compete With Wall Street Bonuses
Exxon is having trouble attracting traders because it can't compete with Wall Street's performance based bonuses.
The supermajor "is hiring traders and support staff for its new global trading division", according to a new Bloomberg report, but is having trouble attracting talented traders because it pays them similar to how it pays engineers.
On Wall Street, the standard is that traders who perform well can often win millions in performance based bonuses. Exxon is paying its traders with "regular salaries topped up with small stock awards for top performers and benefits such as a traditional pension", the report says. 
Exxon has been toying with the idea of changing how it compensates traders since 2018 but has yet to implement such changes. Chief Executive Officer Darren Woods has said publicly that its traders won't make "speculative bets", indicating that the company's risk tolerance will likely be far less than Wall Street firms and prop shops. 
He said he hopes to grow at a "very thoughtful, controlled pace," Bloomberg reported. Also differentiating itself from Wall Street, Exxon has said its traders won't just be evaluated on their trading acumen, but also on skills "like leadership and teamwork". 
"We've been in business for more than 140 years and fully understand the necessity of having competitive and innovative compensation to retain and attract the right talent. We apply that principle to all parts of our business, including the newly formed trading group," the company told Bloomberg. 
Nonetheless, the pay environment on Wall Street is going to make it difficult for traders see the appeal of working at Exxon. One trader left this year due to uncertainty about pay plans and a second trader told Bloomberg that "pay helped drive the departures of multiple US crude traders and some analysts".
"We'll always look to make sure we can both attract and retain talent. We'll adjust the compensation schemes wherever we see fit," Senior Vice President Neil Chapman said in the first quarter of this year. 
On Wall Street, the opposite trend is taking place. Recall, over the last 18 months we have made note of how competitive Wall Street firms have gotten with attracting and retaining talent.
Just days ago we wrote about how some interns at Citadel were making upwards of $120 an hour. We wrote then, citing Bloomberg, that U.S. median intern pay was up 19% at 16 firms where compensation data was analyzed. Prop firms and hedge funds saw even larger increases, with hourly pay up 29% year over year to $111/hour, or $4,400 gross for a 40 hour work week.
Nowhere is the change more evident than at Citadel and Citadel Securities, where intern pay rose 25% to $120 per hour this year, amounting to about $19,200 per month before taxes. As a result, Ken Griffin's juggernaut received more than 69,000 applications for their 2023 internship program. 
This marked a 65% increase, year over year, in intern applications. 
Tyler Durden
Thu, 07/06/2023 – 20:00
ZeroHedge News
[crypto-donation-box type="tabular" show-coin="all"]