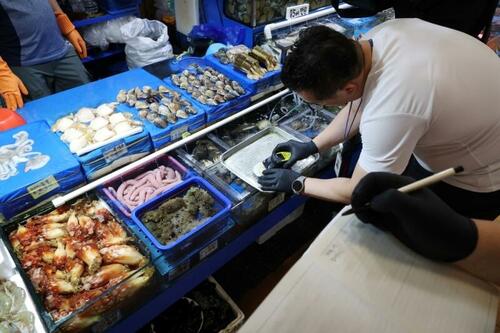 Despite IAEA 'Green Light', China Maintains Ban On Japanese Seafood Imports Over Fukushima Water Release
Chinese customs said on Friday that it would continue import bans on food from about 20% of Japanese prefectures, citing food safety concerns following Tokyo's decision to discharge nuclear-contaminated water from the crippled Fukushima plant into the ocean, reported Nikkei. 
On Tuesday, the International Atomic Energy Agency (IAEA) concluded that Japan's plans to release radioactive water from Fukushima into the Pacific Ocean are consistent with international safety standards. However, that didn't sit well with Chinese authorities. 
China, the largest buyer of Japan's seafood exports, said it would increase monitoring of edible products from Japan and continue bans on seafood imports from 10 prefectures. The General Administration of Customs said this is a move to prevent contaminated food from hitting Chinese supermarkets. 
China customs said it would "strengthen supervision" and "rigorously examine" certificates for food imports, particularly seafood products, from the other non-banned prefectures. 
"Since the Fukushima nuclear disaster in 2011, China's customs have attached great importance to the issue of radioactive contamination of Japanese food imported to China. It has closely monitored the relevant measures taken by the Japanese government, continued to assess the risk and responded promptly," the agency continued.
"For weeks China had publicly voiced strong opposition to Japan's move to discharge treated radioactive water from its crippled Fukushima nuclear plant into the sea," Nikkei Asia said. 
On Thursday, China's foreign ministry said the IAEA report could not be used as a "green light" to discharge more than a million tons of water from Fukushima because of unknown risks to human health. 
China customs said IAEA's report "failed to fully reflect expert opinions" and that it will take "all necessary measures" to ensure the safety of Chinese consumers. 
IAEA chief Rafael Grossi told Reuters that a few teams of international experts behind the report had concerns about radioactive water release but didn't raise concerns directly with him. 
Seafood, such as scallops, shrimp, tuna, and Japanese rice wine sake, are very popular in Chinese markets. Let's hope radioactive seafood from Japan doesn't end up Stateside. 
Tyler Durden
Fri, 07/07/2023 – 12:00
ZeroHedge News
[crypto-donation-box type="tabular" show-coin="all"]