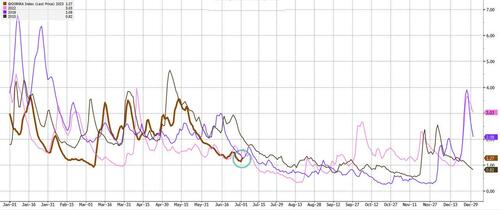 Rhine's Low Water Levels Add To German Headaches
By Michael Msika, Bloomberg Markets live reporter and strategist
It's the last thing that key German industries — already confronting a weak earnings outlook — need this summer: The Rhine is declining rapidly, another potentially nasty headache for Europe's biggest economy.
Dwindling water levels at Kaub, a chokepoint that can prove a struggle for vessels on their journey inland, are evoking memories of the hot summers of 2022, 2018 and 2015.
Snaking roughly 800 miles (1,288 kilometers) from Switzerland to the North Sea, the Rhine carries vital deliveries and exports of heating oil, gasoline, coal and other commodities. The river is back in focus after disruptions to shipping last summer left parts of inland Europe short of fuel, a problem made worse by a spate of refinery outages.
The DAX Index dropped 20% from early June until late September in 2022 as investors added worries over the Rhine's navigability to a list of concerns ranging from other supply chain glitches and high inflation to the war in Ukraine and a weakening global economy.
The Rhine could again be about to leave the DAX high and dry. The German blue-chip benchmark is already underperforming other major European peers like the CAC, the FTSEMIB and the IBEX, once dividends are stripped out to establish a fair comparison.
The bad economic news is beginning to stack up too. Final German manufacturing activity numbers for June showed further deterioration, softness that may eventually drag stocks lower. So far, German manufacturers have brushed off weakness in PMI numbers this year, much like companies in other major European markets. When that resistance finally crumbles, the effects could be stark: industrials, construction materials and chemicals account for about 31% of the DAX and carmakers about 12%.
In the lead-up to reporting their results, some prominent German companies have warned about the outlook for profits, including chemical manufacturers Lanxess and K+S, and electrical power equipment maker Siemens Energy.
"We see the risk of a disappointing 2Q23 earnings season, given weak manufacturing data and companies increasingly flagging the impact of a more challenging macro environment," says Unicredit strategist Christian Stocker. He notes that chemical company profit warnings bode ill for European industrials in general, while a strong decline in German Ifo business climate readings over the past two months — a test of sentiment at 9,000 businesses — is ominous.

 
Of course, companies have emergency plans for dealing with low river levels, and these steps might limit the threat of supply challenges or production halts. Utility EnBW, for example, has built up its coal stock. Chemical manufacturer BASF has a small fleet of special barges suited to a shallower Rhine. Evonik Industries last year chartered additional ships and trucks to compensate for reduced capacity on barges. The effectiveness of these strategies could soon be put to a fresh test.
Tyler Durden
Thu, 07/06/2023 – 03:30
ZeroHedge News
[crypto-donation-box type="tabular" show-coin="all"]