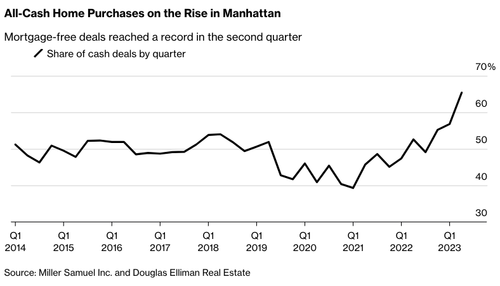 Number Of Manhattan Homebuyers Paying All-Cash Hits Record
All-cash purchases make up a larger portion of transactions in the Manhattan residential housing market for one primary reason: The 30-year fixed rate hovers at 6.75%, or levels not seen since the mid-2000s, deterring homebuyers who take out mortgages because of high borrowing costs. 
Bloomberg reports, citing data from Miller Samuel Inc. and brokerage Douglas Elliman Real Estate, that the share of all-cash deals for the second quarter spiked to a new record of 65%, up from 57% in the first quarter. Data goes back to 2014. 
Mortgage rates spiked to two-decade highs in late 2022. The 30-year fixed rate has been range bound since November after rising to 7.16%. The current rate is around 6.85%. 
Jonathan Miller, president of Miller Samuel, said the rise of cash buyers "reflects continued relative strength at the upper end of the market that favors cash."
While cash sales have soared by 22% compared with the prior quarter, financed transactions fell 18% over the same period. 
The median transaction for luxury deals in the borough was $6.7 million, up 3.9% from a year earlier. Inventory is still tight, and cash buyers have less to worry about bidding wars because high mortgage rates have sidelined many buyers. 
What's notable is that cash buyers can avoid the hit from rising borrowing costs and still make moves in the real estate market, while most homebuyers who rely on financing are paralyzed in the worst housing affordability crisis in a generation. 
Tyler Durden
Thu, 07/06/2023 – 18:00
ZeroHedge News
[crypto-donation-box type="tabular" show-coin="all"]