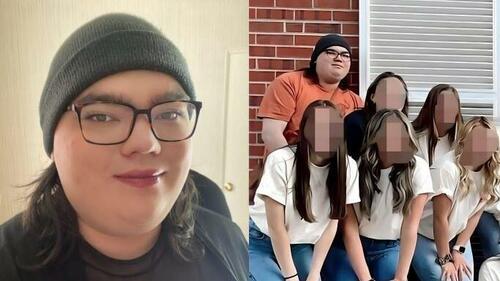 Kappa Kappa Gamma Turns On Sisters For Wanting All-Female Sorority House
Authored by William Biagini via Campus Reform,
Earlier this year, members of a Kappa Kappa Gamma chapter in Wyoming filed a lawsuit after the sorority admitted a man who identifies as a woman named Artemis Langford into the house.
The sorority responded on June 20 by submitting a motion to dismiss the case and called it "frivolous litigation."
According to the lawsuit, Langford is 6'2" and 260 pounds.
He often sits in the women's common area of the University of Wyoming chapter located on the second floor and silently observes them for hours.
Campus Reform obtained the motion, which states that "What dismissal will do is establish that Plaintiffs' legal claims are baseless and show their supporters and others who may seek to use the courts for their own political purposes that funding frivolous litigation is not the way to resolve disputes or effect change."
"Plaintiffs are upset that Kappa has adopted an inclusive position allowing for the admission of transgender women," it also reads.
"They are upset that their collegiate chapter decided to admit Langford as a transgender woman. They are upset that Kappa did not step in to override their chapter's membership decision."
Finally, the motion defends Lang's identification as a woman.
"As previously discussed, Kappa has defined women to include individuals who "identify as women" and nothing in Kappa's governing documents bars that interpretation."
Campus Reform previously reported on the controversy back in 2022 when Kappa Kappa Gamma first decided to admit Langford into the organization. In March of this year, seven members of the sorority filed a lawsuit against Langford and the sorority.
Two months later, the seven sisters who filed the lawsuit made an appearance on the Megyn Kelly Show in May to discuss how they felt about Lang's presence in the house.
"It's supposed to be a safe place where we can rest our heads at night…"
Sorority sisters speak out about fear and betrayal after biological man was allowed into their sorority.
Watch below, and download:https://t.co/F96HgI7HIWhttps://t.co/wj2a0VX9Vw
— The Megyn Kelly Show (@MegynKellyShow) May 15, 2023
As Campus Reform has already reported, one of the girls on the show stated that "It's a weird, gut-wrenching feeling that every time I leave my room, I'll walk past him in the hall in whatever setting that may be. And it's never a pleasant encounter and that's the scary part. This just goes to show that we need women's spaces for that reason. Our house is our home."
The University of Wyoming declined the opportunity to provide a statement.
Campus Reform contacted all relevant parties for comment. This article will be updated accordingly. 
Tyler Durden
Wed, 07/05/2023 – 14:20
ZeroHedge News
[crypto-donation-box type="tabular" show-coin="all"]