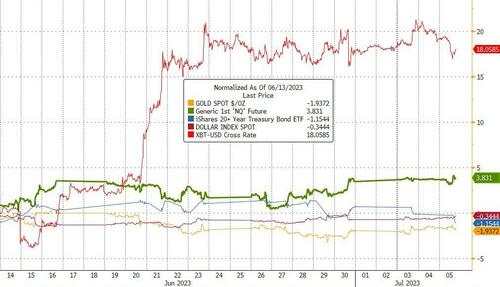 FOMC Minutes Show "Almost All" Fed Members See More Rate-Hikes In 2023, See "Mild Recession" In H2
Since the last FOMC meeting on June 14th – when The Fed 'paused' its hiking cycle (but pressed its view, via The Dots, that the cycle has at least 2 more hikes in it) – gold and bond (prices) are down 1-2% with the dollar basically flat. Stocks have rallied notably, but crypto has been the big winner…
Source: Bloomberg
Which is 'odd' given that the market's expectations for Fed actions has shifted significantly more hawkish – despite the 'pause'.
Source: Bloomberg
Another view of that is the upward shift in the Fed Funds curve expectations since the last FOMC meeting…
Source: Bloomberg
So ahead of The Minutes, all eyes are on any confirmation of the 'majority' confirming their more hawkish view going forward, despite the decision to pause In June. The market is pricing in a July hike as almost a done-deal – will The Minutes reinforce that?
As a reminder, Powell reinforced The Fed's hawkish position on June 29th, emphasizing the importance of maintaining a patient and data-dependent approach to monetary policy, indicating that any changes will be based on a thorough assessment of economic conditions.
Fedspeak since the announcement has focused on dissuading the market from assuming the Fed 'paused' in favor of the 'skipped' narrative. Many are anticipating a similar takeaway from the minutes.
Key headlines:
While the decision to pause interest-rate hikes was unanimous among voting members of the Federal Open Market Committee, the minutes reveal divisions: Some officials would have preferred another quarter-point increase because of a tight labor market and relatively few signs inflation was slowing to 2%.
Fed officials stress the need to maintain a "restrictive stance" of monetary policy; almost all officials flag their projections showing additional rate hikes will likely be warranted.
Policymakers discussed the possibility of upward pressure on money-market rates from issuance of vast amounts of Treasury bills following the end of the debt-limit standoff.
Fed staff economists continued to forecast a "mild recession" starting later this year, at odds with Chair Jerome Powell's expectation for slow growth
Developing…
Real the full Minutes below…
Tyler Durden
Wed, 07/05/2023 – 14:05
ZeroHedge News
[crypto-donation-box type="tabular" show-coin="all"]