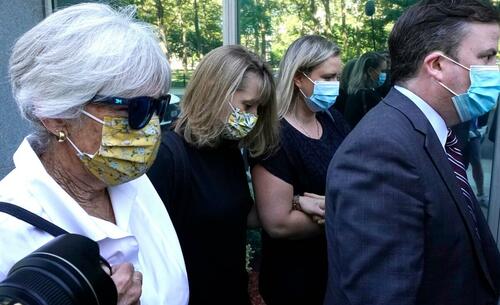 Actress Allison Mack Released From Prison After Sentencing For Role In NXIVM Sex Cult
Authored by Katabella Roberts via The Epoch Times (emphasis ours),
Actress Allison Mack, who starred in the television series "Smallville," has been released from prison early, government records suggest.
German-born American TV actress Allison Mack (C) arrives at Brooklyn Federal Court to be sentenced for her role in the alleged sex cult NXIVM, in New York, on June 30, 2021. (Timothy A. Clary/AFP via Getty Images)
Online records from the Federal Bureau of Prisons website state that Ms. Mack was released from the Federal Correctional Institution in Dublin, California—a low-security women's prison—on July 3, a year earlier than anticipated.
The Epoch Times has contacted the prison for further comment.
Ms. Mack, 40, was arrested in 2018 for her role in NXIVM, a New York-based cult whose leader, Keith Raniere, is serving a 120-year prison sentence for federal racketeering, sex trafficking, and child pornography charges.
Raniere, 60, was also arrested in 2018 at his luxury villa in Puerto Vallarta, Mexico.
Ms. Mack pleaded guilty in 2019 to racketeering and conspiracy after prosecutors claimed she manipulated women into becoming sex slaves for Raniere while she was a high-ranking member of NXIVM, which billed itself as a self-help organization offering classes that cost up to $5,000.
Initially, Ms. Mack had faced a sentence of up to 17 years behind bars but she ultimately received a shorter sentencing after cooperating with investigators who were pursuing a case against Raniere.
The actress handed over evidence to prosecutors showing how the cult leader had brainwashed women into becoming "slaves" and forced female members of the group, which was based in Albany, New York, to have sex with him.
In some cases, women were placed on starvation diets and allegedly branded with Raniere's initials, prosecutors said. Others were forced to hand over personal or embarrassing information about themselves, such as nude photos, that were later used to blackmail them into not leaving the group.
Ms. Mack was subsequently handed a three-year sentence in 2021 following her cooperation with prosecutors.
In a letter ahead of her sentencing, which was obtained by The Hollywood Reporter, Ms. Mack apologized to the individuals who had been harmed by her actions.
Defendant Keith Raniere (C) leader of sex cult NXIVM, is seated between his attorneys Paul Der Ohannesian (L) and Marc Agnifilo, during the first day of his sex trafficking trial, in this May 7, 2019, courtroom sketch. (Elizabeth Williams via AP, File)
'Biggest Mistake and Regret of My Life'
"It is now of paramount importance for me to say, from the bottom of my heart, I am so sorry," she wrote. "I threw myself into the teachings of Keith Raniere with everything I had," she continued. "I believed, wholeheartedly, that his mentorship was leading me to a better, more enlightened version of myself. I devoted my loyalty, my resources, and, ultimately, my life to him. This was the biggest mistake and regret of my life," Mack added.
Ms. Mack and her lawyers also stressed that she had "publicly denounced Raniere (and her own prior association with Raniere) in the strongest possible terms."
Meanwhile, Raniere was sentenced to a lengthy term behind bars in 2020 and fined $1.75 million. In an interview with NBC News ahead of his sentencing, the former cult leader insisted he was innocent and apologized for his "participation" in the group.
"I apologize for my participation in all of this … this pain and suffering," he said in the interview. "I've clearly participated. I've been the leader of the community. And it has come to this. Even if it is by oppression, I am absolutely sorry and pained. This is a horrible situation."
In 2021, Raniere was also ordered to pay nearly $3.5 million in restitution to 21 of his victims.
The NXIVM group was founded in 1998 and advertised itself as a "professional business providing educational tools, coaching and trainings to corporations and people from all walks of life," describing its philosophy as "a new ethical understanding" that allows "humanity to rise to its noble possibility," court documents (pdf) show.
Other members of the group included Clare Bronfman, a billionaire heiress to the Seagram's liquor fortune and a daughter of TV star Catherine Oxenberg of "Dynasty" fame.
Bronfman was sentenced in September 2020 to nearly seven years in prison for her role in NXIVM.
The Associated Press contributed to this report.
Tyler Durden
Wed, 07/05/2023 – 18:40
ZeroHedge News
[crypto-donation-box type="tabular" show-coin="all"]