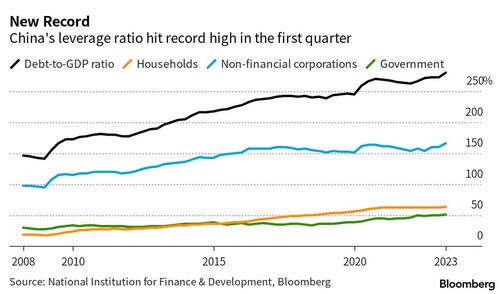 Now Calls Mount For Beijing To Load Up On Debt
By Charlie Zhu and Helen Sun, Bloomberg Markets Live reporter and analysts
1. A rising number of economists are calling for more borrowing by the central government to shore up the economy. Given mounting debt levels at households, corporates and local authorities, it's appropriate for the Ministry of Finance to issue more notes and support infrastructure investment, they say.
China can sell long-term construction sovereign bonds, said Luo Zhiheng, chief economist at Yuekai Securities Co. This will help offset inadequate domestic demand, and at the same time ensure there are enough fiscal funds to support lower-income parts of the population, according to a report.
He joined Citic Securities Co.'s Ming Ming, who in May pointed to higher central government borrowing as one of three areas that can achieve policy breakthroughs this year. Its leverage ratio was 21.4% at end-2022, lower than that of local governments and many major economies, Ming wrote in a note at the time.
Deleveraging over the past few years has hit the private sector — the most vibrant part of the economy — hard, Xu Gao, chief economist at Bank of China International Ltd., wrote in a note. China's growth has been in a downtrend over the last few years, shattering market confidence, so it's necessary to steer the economy back onto the right track, he said.
2. Policy constraints seem to be the reason why Beijing delayed announcing a forceful stimulus package. A high debt level is one of the factors that limit China's options, said Zhu Min, a former IMF deputy managing director. Jin Keyu, economics professor at LSE, said even a stimulus plan in the trillions of yuan may only have a moderate impact on the economy.
While the People's Bank of China cut policy rates in June, further lowering the interest rates won't effectively do much to reduce household savings or boost corporate investments, Sheng Songcheng, former head of the statistics and analysis department at the central bank, wrote in an article on China Business News. China needs more innovative measures and reforms to boost market confidence, he said.
3. Investors have become impatient waiting for effective measures. While the government is poised to boost consumption and hence help the economic recovery, the Shanghai Composite Index of shares dropped below the 200-day moving average to a five-month low.
The yuan accelerated its decline toward the low in the fourth quarter last year, even though the central bank repeatedly used the daily reference rate to slow depreciation. The currency also fell to levels not seen since early 2021 against its peers..
The yield on the one-year sovereign note, a barometer of liquidity in the financial system, capped the biggest quarterly fall since the pandemic began, signaling credit demand is faltering.
Tyler Durden
Mon, 07/03/2023 – 18:00
ZeroHedge News
[crypto-donation-box type="tabular" show-coin="all"]