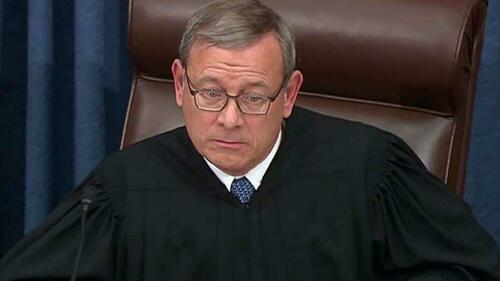 USSC Chief Justice Roberts Slams 'Misleading' Liberal Justices Over 'Disturbing' Activist Opinions
Supreme Court Justice John Roberts took aim at his liberal colleagues last week, writing at the end of his majority opinion striking down Joe Biden's student debt relief program; "It has become a disturbing feature of some recent opinions to criticize the decisions with which they disagree as going beyond the proper role of the judiciary."
The Court ruled last week along ideological lines that the Biden administration's program was unconstitutional based on the administration's justification. The law cited allows the Secretary of Education to "waive or modify any statutory or regulatory provision applicable to the student financial assistance programs," which the state of Missouri opposed.
"Today, we have concluded that an instrumentality created by Missouri, governed by Missouri, and answerable to Missouri is indeed part of Missouri; that the words 'waive or modify' do not mean 'completely rewrite'; and that our precedent—old and new—requires that Congress speak clearly before a department secretary can unilaterally alter large sections of the American economy," said Roberts, adding "We have employed the traditional tools of judicial decision-making in doing so."
In his majority opinion, Roberts, a George W. Bush appointee, slammed Justice Elena Kagan, an Obama appointee – who claimed that the majority was "distorting standing doctrine to create a case fit for judicial resolution," because Missouri did not suffer harm by the student loan program.
"The statute, read as written, gives the Secretary broad authority to relieve a national emergency's effect on borrowers' ability to repay their student loans. The Secretary did no more than use that lawfully delegated authority. So the majority applies a rule specially crafted to kill significant regulatory action, by requiring Congress to delegate not just clearly but also micro-specifically," wrote Kagan, adding "Congress in broadly authorizing loan relief, the Secretary and the President in using that authority to implement the forgiveness plan. The majority instead says that it is theirs to decide."
According to Roberts, "reasonable minds" may disagree with the majority, but that "It is important that the public not be misled either. Any such misperception would be harmful to this institution and our country."
This isn't the first time the liberal minority has taken aim at the conservative majority. As the Epoch Times notes;
Justice Sonia Sotomayor, for instance, dissented from the ruling striking down racially discriminatory admissions policies at U.S. universities by claiming that the court was "subvert[ing]" the protection from the Equal Protection Clause of the U.S. Constitution's Fourteenth Amendment.
"Because the Court's opinion is not grounded in law or fact and contravenes the vision of equality embodied in the Fourteenth Amendment, I dissent," Sotomayor, an Obama appointee, wrote.
The majority had ruled that policies used by Harvard University and the University of North Carolina were unconstitutionally discriminatory. The schools themselves had admitted they discriminated against applicants who were not African American or Hispanic.
In a concurring opinion, Justice Clarence Thomas, a George W. Bush appointee, said that American society has not been, and is not, colorblind but that the U.S. Constitution's Fourteenth Amendment requires disregarding racial distinctions.
Tyler Durden
Sun, 07/02/2023 – 17:00
ZeroHedge News
[crypto-donation-box type="tabular" show-coin="all"]