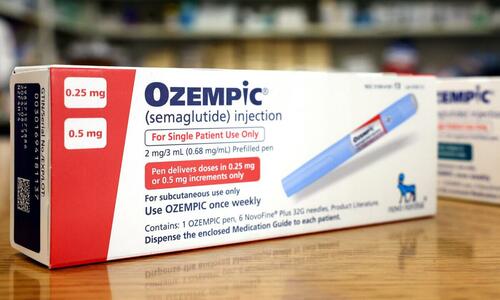 Thyroid Cancer Concerns Raised Regarding Active Ingredient In Popular Drugs Ozempic And Wegovy
Authored by Harry Lee via The Epoch Times (emphasis ours),
The European Medicines Agency (EMA) has issued a drug safety signal (pdf) regarding the potential risk of thyroid cancer associated with certain classes of medications that include semaglutide, the active ingredient in the widely used drugs Ozempic, approved for Type 2 diabetes, and Wegovy, approved for obesity.
Boxes of the diabetes drug Ozempic rest on a pharmacy counter on April 17, 2023, in Los Angeles, Calif. (Mario Tama/Getty Images)
The medications in question are glucagon-like peptide-1 (GLP-1) receptor agonists. Their manufacturers, including Novo Nordisk, AstraZeneca, Eli Lilly, and Sanofi Winthrop, must submit supplementary information by July 26, 2023.
A safety signal does not necessarily imply a direct causal relationship between a medicine and the reported adverse event. The purpose of assessing safety signals is to determine whether such a causal link exists between the medication and the reported adverse event.
"Novo Nordisk is aware of the signal and the request by EMA and will deliver a thorough assessment of all relevant data to elucidate this topic," Lars Otto Andersen-Lange, media relations director at Novo Nordisk, said in a statement to The Epoch Times.
According to Andersen-Lange, Novo Nordisk's products, including semaglutide, have been available in the market for over a decade, and the safety data gathered from clinical trials and postmarketing surveillance have not shown any conclusive evidence linking them to thyroid cancer.
Furthermore, Andersen-Lange highlighted "important limitations" in the study that raised concerns, referring to a nested case-control analysis published in Diabetes Care in February 2023. These limitations include the absence of validated case identification, inadequate differentiation of recurrent events, potential misclassification of events, and unconfirmed drug exposure.
Spontaneous reports, clinical studies, or scientific literature can trigger EMA's declaration of a safety signal.
The Study That Led to the Drug Safety Alert
The case-control analysis was conducted by a group of French researchers who analyzed data from the French national health care insurance system database and observed an increased risk of thyroid cancer among individuals using these drugs, particularly after one to three years of treatment.
Then, Diabetes Care also published two commentaries on the study. One highlighted limitations, suggesting that detection bias could be an alternative explanation for the observed moderate increase in thyroid cancer. The other noted that the association between obesity and thyroid cancer is well known, and that since the study did not account for obesity as a confounding factor, the study's validity might have been compromised.
Novo Nordisk has warned patients about the risk of thyroid C-cell tumors associated with the use of Ozempic or Wegovy. In the prescribing information, the manufacturer noted that semaglutide caused "dose-dependent and treatment-duration-dependent thyroid C-cell tumors" in rodents, but its impact on human cancer remains undetermined.
The U.S. Food and Drug Administration (FDA) has advised people with a family history of thyroid cancer against (pdf) taking Wegovy.
Read more here…
Tyler Durden
Tue, 06/27/2023 – 05:00
ZeroHedge News
[crypto-donation-box type="tabular" show-coin="all"]