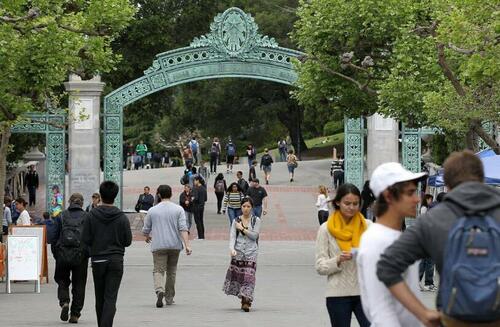 California Bill Would Expand College Financial Aid To Asylum Seekers
Authored by Micaela Ricaforte via The Epoch Times,
A California bill that would expand college financial aid to those seeking asylum passed the state Assembly and will now be heard in the state Senate.
Students walk through Sproul Plaza on the University of California–Berkeley campus in Berkeley, Calif., on April 23, 2012. (Justin Sullivan/Getty Images)
Currently, Cal Grant financial aid awards are available only to U.S. citizens or eligible noncitizens, such as those who possess a visa or those who are a part of the Deferred Action for Childhood Arrivals—commonly known as DACA—program.
State Assembly Bill 888—introduced in February by Assemblywoman Sabrina Cervantes (D-Riverside)—would expand all such financial aid to immigrants who have applied for asylum and who have a valid employment authorization document and social security number.
Under current law, asylum seekers are not eligible to receive Cal Grants if they have been in California for fewer than three years, Cervantes said in a March statement.
The University of California–Los Angeles is seen in Westwood, Calif., on Jan. 22, 2018. (Joyce Kuo/The Epoch Times)
Federal immigration courts can take up to four or five years to schedule an asylum hearing in California, but Cervantes said those who have a pending application for six months may obtain a social security number and work authorization, and he argued if they are able to work and participate in the economy, they should also be able to get an education.
"However, because they and their family members often are only able to get low-paying jobs, the cost of education in California is well beyond their financial means," she said.
The assemblywoman noted that California recently had an influx of asylum seekers from both Afghanistan and Ukraine.
"Among these asylum seekers are prospective college students and individuals who were attending university in their home countries who now wish to attend a California university to begin to [make] a new life for themselves," she said.
The fiscal impact is currently unknown, according to an Assembly floor bill analysis, because "[n]either the state's colleges and universities nor [the California Student Aid Commission] collect data on the number of asylum-seeking students."
University of California–Irvine, in Irvine, Calif., on Sept. 25, 2020. (John Fredricks/The Epoch Times)
The Association of Independent California Colleges and Universities, an organization representing more than 80 independent higher education institutions, expressed support in a statement submitted to the bill's legislative file.
"California higher education institutions play an important role in welcoming displaced students and supporting their long-term success and contribution to the state's workforce and economy," the organization stated.
"A diverse student body with different lived experiences benefits everyone as students, faculty, and community members gain a greater understanding and appreciation of individuals from different backgrounds."
The bill has also garnered support from groups such as First Gen Empower, Harbor Institute for Immigrant and Economic Justice, John Burton Advocates for Youth, Los Angeles United Methodist Foundation, and University of California Student Association.
It has received no recorded opposition as of June 20.
The bill passed the state Assembly's Higher Education Committee, its Appropriations Committee, and the Assembly floor last month, and is scheduled for a hearing in the state Senate's Education Committee on June 28.
Tyler Durden
Sat, 06/24/2023 – 19:30
ZeroHedge News
[crypto-donation-box type="tabular" show-coin="all"]