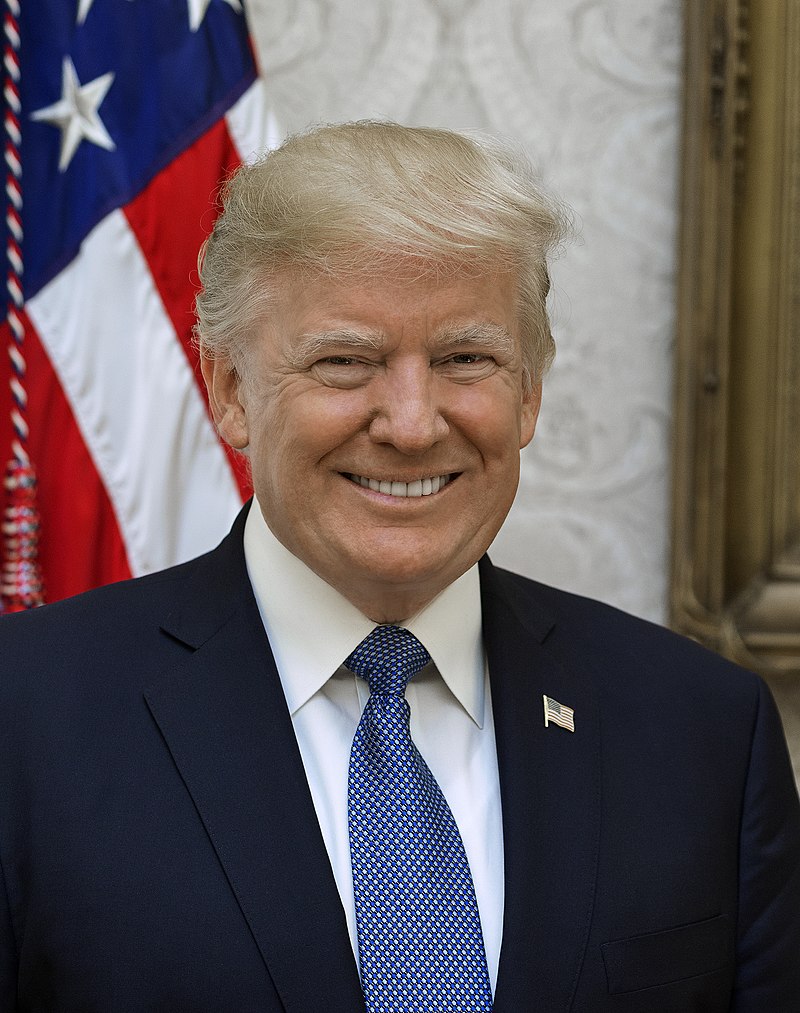 The Indictment Of President Trump Must Be Thrown Out
Statement From The Trump Campaign:
"President Donald J. Trump has long been the biggest threat and the top political target for Joe Biden and the corrupt Democrat Party. As President Trump's dominance grows, the nastier the Deep State attacks become. 
Today's act of open legal 'warfare' by the highly politicized and partisan Department of Injustice, has taken things to a new level, and set a dangerous precedent. By politically weaponizing the DOJ, the Biden administration and their henchmen in the Swamp are now conducting an all-out prosecution of the leader of the current administration's political opposition. 
This is un-American and wrong. 
President Trump violated no laws and is being held to a different legal standard than other former Presidents and Vice Presidents. We are confident that no matter how crooked the Executive branch has become, the American justice system is resilient and will throw this case out in its entirety. If not, our cherished Constitution is in serious trouble. 
"President Trump will fight this unconstitutional abuse of power until he is ultimately vindicated. He will never stop fighting for the American people, and he will continue to work to restore the greatness of the United States of America."
"TOPLINES:
– This Indictment Is An Unprecedented Abuse Of Power By A Weaponized Justice Department Attempting To Interfere With The Election And Damage President Trump's Leading Campaign.
– President Trump Is The Leader Of The Republican Party And 2024 Presidential Front-Runner. He Is Leading Democrat President Biden In Polls And Being Held To A Different Standard Of Justice Because Of His Politics.
– This Indictment Is Proof Of A Two-Tiered System Of Justice Under Biden, One Where Democrats Escape Scrutiny And Republicans Are Singled Out For Prosecution.
– President Trump Is Being Held To An Entirely Different Standard Regarding Classified Documents Than Every Other President Since Ronald Reagan.
– The DOJ's Chief Investigator, Jack Smith Has A Checkered Prosecutorial History Filled With Failed, Sloppy Prosecutions.
– Classified Documents End Up In The Possession Of Former Presidents And Vice Presidents Because There Are No Explicit Federal Guidelines For Handling Such Material. Congress Should Remedy This, Not The Department Of Justice.
– Every President Has Had The Right To Possess Whatever Documents They Wish. The Presidential Records Act (PRA) Only Created A Requirement That A Former President Work With The National Archives (NARA) To Identify Records Deemed "Presidential" Or "Personal." The PRA Includes No Criminal Penalties. Utilizing The Espionage Act Is An Egregious Effort To Bend The Rules Against President Trump, A Telling Maneuver Tipping The True Motivation Behind This Case.
– Joe Biden Possessed Several Dozen Classified Documents From His Time As Vice President, Unsecured At His Home In Delaware, Stored In His Garage, Next To His Prized Corvette.
– Biden Donated Over 1800 Boxes Of Documents To The University Of Delaware, None Of Which Have Been Made Public.
– Vice President Mike Pence Possessed Classified Documents, Unsecured At His Home In Indiana.
– Typically, Presidents Are Given Years To Discern Classified Documents From Personal Documents In Their Post-Presidencies. Why The Rush With President Trump? 
– The DOJ Forced An Investigation And An Unnecessary Search Warrant Of The President's Residence In Order To Smear The President And Damage His Presidential Prospects. 
– America's Law Enforcement Officers And Officials Deserve Better Than To Be Used As Political Pawns For Joe Biden And The Democrats.
– President Trump Will Fight These Bogus Charges With The Same Vigor And Relentlessness That He Fights For The American People. He Will Never Quit Fighting For You.
A NEW CHAPTER IN THE DEMOCRATS' NEVER-ENDING WITCH-HUNT OF PRESIDENT TRUMP
This Indictment Is Merely The Latest Fantasy In A Relentless Media And Democrat-Lead Campaign Against President Trump. "Whether it's Russiagate, Impeachment #1, Impeachment #2, Jan. 6 Committee, Hunter's laptop, classified docs, or an intel letter from 51 of our highest "servants," they layered this two-tier system of justice by doing the same thing at each level – breaking the law. Illegal surveillance, unlawful congressional overreach, and judicial hustling have joined forces, and the result is a destruction of justice." (Kash Patel, Real Clear Politics, 6/7/23) 
INCONVENIENT TRUTHS FOR THE BIDEN CAMPAIGN
Joe Biden Mishandled Classified Documents
– Earlier This Year, It Was Revealed That Dozens Of Classified Documents Were Discovered In Biden's Home, Garage, And Office. (GOP.com, 2/2/23)
– The Biden administration attempted to conceal this scandal from the American people for as long as possible – even saying the search was "complete" when additional documents were later discovered. (CNN, 1/14/23)
– Joe Biden Is A Hypocrite.
– When classified documents were found at Mar-a-Lago, Biden called it "totally irresponsible," yet when classified documents were found in Biden's own garage, he downplayed the significance, comparing the security of government secrets with the security of his Corvette. (ABC News, 1/15/23; Biden Remarks, 1/12/23))
The Biden Administration Attempted To Hide His Unlawful Possession Of Classified Material
– Despite A Documented Pattern Of Withholding Information, The Biden Team Claimed They've Been "Pretty Transparent." (White House Spokesman, 1/18/23)
– When Biden's Team Found The First Set Of Documents In November 2022, They Opted For "Keeping The Matter Quiet." White House Officials Did Not Make This Information Public For 68 Days. (Washington Post, 1/18/23; New York Times, 2/1/23) 
– A Statement Was Reportedly Drafted, But Biden's Team Never Used It.
– At The Time, Biden's Lawyers Told The Justice Department There Was "No Reason To Believe" There Were Classified Documents In Biden's Home. This Was Untrue. (New York Times, 1/22/23)
– When The Second Set Of Documents Was Found In December, They Again Refused To Publicly Disclose The Information. (Washington Post, 1/18/23)
– When CBS News Was Set To Report On The First Set Of Documents, The Biden White House "Decided Not To Offer Any Additional Details — Including The Critical Information That A Second Batch Of Documents Had Been Discovered At Biden's Home." (Washington Post, 1/18/23)
– Biden Himself Commented On The CBS News Report, But Chose To Make "No Mention Of Those [Documents] At His Wilmington House." (Washington Post, 1/18/23)
– When Additional Documents Were Found At Biden's Home, Biden And His Team Again Waited Days To Disclose That Information. (CNN, 1/14/23)
– White House Press Secretary Karine Jean-Pierre falsely claimed the investigation was "complete" when reporters asked if there were any additional classified documents. (White House Press Briefing, 1/14/23)
– When Asked Exactly How Many Classified Documents Have Been Found At Biden's Various Properties, A Top Biden Advisor Repeatedly Dodged, Saying The Answer "Is A Little Bit Complicated." (MSNBC, 2/1/23)
Biden's Classified Documents Scandal Raises Serious Questions
– When Biden Left The Vice Presidency, Boxes Containing The Classified Material Were Originally Stored In Three Different Locations Around The Washington, D.C. Area According To Biden's Former Assistant, Kathy Chung. (NY Post, 4/4/23)
– The boxes were reportedly not in a "locked closet" and remained accessible. (New York Post, 4/4/23)
– Months before the November discovery of the classified records by Biden's lawyers, then-White House Counsel Dana Remus sought to recover documents from the Penn Biden Center office in Washington. (New York Times, 2/10/23)
– There Has Been No Update On The Nine Boxes That Were Shipped From The Penn Biden Center To Biden Attorney Patrick Moore's Office In Boston. (Daily Mail, 3/9/23)
Biden Does Not Take Classified Information Seriously
– Biden Has A History Of Mishandling Classified Information Going All The Way Back To The 1980s.
– In 1986, Biden bragged he "twice threatened to go public with covert action plans by the Reagan Administration" if he disagreed with them. (The New Republic, 1986)
– In 2009, Biden accidentally divulged the existence of a secret, classified bunker under the residence of the vice president. (Fox News, 12/24/15)
– In 2013, Biden openly displayed a "codeword" classified binder in front of reporters in the Oval Office. (Daily Mail, 10/2/13)
– Biden Reluctantly Admitted That The FBI Seized Documents From His Home Dating Back To 1974. (NPR, 1/22/23; PBS News Hour, 2/8/23)
THE CURIOUS HISTORY OF JACK SMITH
From 2010 To 2015, Smith Served Under Obama's Attorney General, Eric Holder, Leading The Public Integrity Section. "Smith served under Obama Attorney General Eric Holder, leading the DOJ's Public Integrity Section from 2010 to 2015. Smith led a team of 30 prosecutors in conducting public corruption cases throughout the United States, including a mixed track record of going after high-profile politicians. He also inserted the DOJ into what would become the Lois Lerner IRS scandal targeting conservative nonprofit groups during the Obama years, which Trump has criticized him for since he became special counsel." (Washington Examiner, 6/5/23)
After Leaving His DOJ Post In 2015, Smith Served As The First Assistant United States Attorney And Acting United States Attorney For The Middle District Of Tennessee. "After leaving the DOJ in 2015, Smith headed to Tennessee, where he served as the First Assistant United States Attorney and Acting United States Attorney for the Middle District of Tennessee." (NPR, 11/18/22)
President Trump Is Not The First Republican Executive Smith Has Over-Prosecuted
Smith Prosecuted Republican Virginia Governor Bob McDonnell, Whose Conviction Was Unanimously Overturned By The Supreme Court.
Smith's Prosecution Of Former Republican Virginia Governor Bob McDonnell Failed, When His Conviction Was Unanimously Overturned By The Supreme Court. "Smith's DOJ biography in 2015 touted that while chief of the Public Integrity Section, Smith helped with the prosecution against McDonnell, who was indicted and convicted on federal corruption charges related to bribery in 2014. The case was being prosecuted by Smith's deputy in the Public Integrity Section. McDonnell was investigated while governor, indicted shortly after leaving office in January 2014, convicted in September 2014, and sentenced to two years in prison in 2015. The Supreme Court unanimously overturned McDonnell's conviction in the summer of 2016." (Washington Examiner, 6/5/23)
Jack Smith Is Married To A Left-Wing Movie Producer And Joe Biden Donor
Smith Is Married To Katy Chevigny, A Producer Of 'Becoming' A Documentary On Michelle Obama. "The wife of newly appointed special counsel Jack Smith is a filmmaker who produced a movie about former first lady Michelle Obama and donated to President Biden's 2020 campaign. Katy Chevigny is credited as a producer on 'Becoming,' a 2020 documentary about Obama, and Federal Election Commission records show that she donated $2,000 in support of Biden's presidential run that same year. "Becoming" centered on the former first lady's 2019 book tour promoting her memoir of the same title. Big Mouth Productions, where Chevigny is employed as a director and producer, is listed as one of the production companies that worked on the film." (New York Post, 11/23/22)
Chevigny Contributed $2000 To The 2020 Biden Campaign. "Federal Election Commission records show that she donated $2,000 in support of Biden's presidential run that same year." (New York Post, 11/23/22)
Chevigny Also Produced A Left-Wing Video Critical Of The Supreme Court's Citizen's United Decision. "Chevigny and Big Mouth Productions also worked on the 2018 documentary titled 'Dark Money.' The film is described as a 'political thriller' that  'takes viewers to Montana – a front line in the fight to preserve fair elections nationwide – to follow an intrepid local journalist working to expose the real-life impact of the US Supreme Court's Citizens United decision.'" (New York Post, 11/23/22)
Chevigny Also Donated To The Leftist Activist Group MoveOn.org. "Big Mouth Productions is also listed as Chevigny's employer on FEC filings that show her donations to Biden's campaign. Records show she donated $1,000 to Biden for President and another $1,000 to the Biden Victory Fund in September of 2020. Chevigny also made seven other $10 donations to ActBlue, a Democratic fundraising platform, and to MoveOn.org's political action committee in 2010." (New York Post, 11/23/22)
Smith Was A Key Figure In The Lois Lerner Scandal, Wherein The IRS Targeted Conservative Nonprofit Organizations.
Lerner Led An IRS Effort Targeting Tea Party Groups And Similar Conservative Nonprofit Organizations And "Smith's Push For DOJ Officials To Contact Lerner And The IRS In Order To Get The DOJ Involved Seemed To Be The Impetus Behind The IRS Sending The FBI Reams Of Nonprofit Tax Records." "Lerner, director of the IRS's Exempt Organizations Unit, led an IRS effort targeting Tea Party groups and similar conservative nonprofit organizations. Smith's push for DOJ officials to contact Lerner and the IRS in order to get the DOJ involved seemed to be the impetus behind the IRS sending the FBI reams of nonprofit tax records. An IRS watchdog and the DOJ later admitted the IRS committed wrongdoing, although not of the criminal variety. Lerner would apologize.Republicans unsuccessfully sought a special counsel to investigate the IRS scandal at the time, with Smith's actions cited as one reason." (Washington Examiner, 11/25/22)
Jim Jordan: "Jack Smith Was Looking For Ways To Prosecute The Innocent Americans That Lois Lerner Targeted During The IRS Scandal." "'Jack Smith was looking for ways to prosecute the innocent Americans that Lois Lerner targeted during the IRS scandal,' Rep. Jim Jordan (R-OH), expected to lead the House Judiciary Committee next year, told the Washington Examiner. Jordan and Rep. Darrell Issa (R-CA), who led House Oversight, sought Smith's testimony in May 2014, saying, 'It is apparent that the Department's leadership, including Public Integrity Section Chief Jack Smith, was closely involved in engaging with the IRS.' Smith testified that month that he spoke with the FBI about these nonprofit groups. 'We had a dialogue with the FBI. Never opened any investigations, Public Integrity [Unit] did not. But we did have a dialogue with them over time following this [Oct. 8, 2010, meeting with Lerner].' (Washington Examiner, 11/25/22)
Congressional Scrutiny Of Smith's Conduct
Congressman Jim Jordan Launched A Probe To Conduct Oversight Over Jack Smith's Probe Into Former President Donald Trump For The Handling Of Papers At Mar-A-Lago. "House Judiciary Committee Chair Jim Jordan (R-OH) launched a probe to conduct oversight over Special Counsel Jack Smith's probe into former President Donald Trump for the handling of papers at Mar-a-Lago. In a letter to Attorney General Merrick Garland, Jordan requested information about the probe to ensure the investigation is not politicized by the FBI, which suffers from a lack of public trust after improperly involving itself in the 2016 Russia hoax." (Breitbart, 6/2/23)"
The post The Political Weaponization of the Department of Justice is a Disgrace appeared first on The Desk of Donald Trump.
Trump Campaign Statement
The Desk of Donald Trump

Donald J. Trump 45th President of the United States
[crypto-donation-box type="tabular" show-coin="all"]