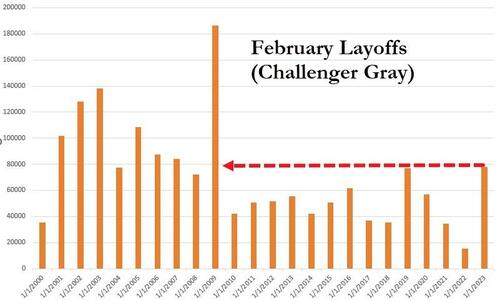 WTF Chart Of The Day: Jobless Claims Finally Rise As Layoffs Soar At Fastest Pace 'Since Lehman'
According to Challenger Gray & Christmas, U.S.-based employers announced 77,770 job cuts in February. It is 410% higher than the 15,245 cuts announced in the same month last year.
February's total is the highest for the month since 2009…
So far this year, employers announced plans to cut 180,713 jobs, up 427% from the 34,309 cuts announced in the first two months of 2022. It is the highest January-February total since 2009…
"Worst since Lehman" is never a good thing.
"Certainly, employers are paying attention to rate increase plans from the Fed. Many have been planning for a downturn for months, cutting costs elsewhere. If things continue to cool, layoffs are typically the last piece in company cost-cutting strategies," said Andrew Challenger, Senior Vice President of Challenger, Gray & Christmas, Inc.
"Right now, the overwhelming bulk of cuts are occurring in Technology. Retail and Financial are also cutting right now, as consumer spending matches economic conditions. In February, job cuts occurred in all 30 industries Challenger tracks," he added.
In fact, Challenger has not recorded announcements in every industry the firm tracks since January 2013, when cuts occurred in all 29 industries.
Tech Layoffs continue to dominate…
Led by Google, Meta, and Microsoft…
But, here comes the 'official' BLS-sponsored data which shows that initial jobless claims which jumped from 190k to 211k last week (above the 195k exp), the highest since December (but still extremely low historically). Continuing claims also rose to 1.718mm (near cycle highs) and well above the 1.66mm expected…
Source: Bloomberg
Notably non-seasonally-adjusted initial claims jumped to 237k…
Source: Bloomberg
Overall, the total number of Americans on some form of unemployment benefit continues to hover near one-year highs…
Source: Bloomberg
Additionally, Bloomberg's Simon White notes that overall, the percentage of industries with a rise in claimants of more than 10% is creeping up.
Source: Bloomberg
This does not necessarily suggest reason for any imminent concern, but this "regime shift" indicator climbs fast, especially just before a recession.
Yes, we understand there are lags between the two series since the laid off are likely to be getting severance, but the fact that the claims data is tumbling back near record lows as layoffs are accelerating YTD at their fastest pace 'since Lehman' is ridiculous…
Source: Bloomberg
Finally, we note that companies announced plans to hire 28,830 workers in February, down 12% from the 32,764 hires announced in January. It is down 87% from the 215,127 hiring plans announced by companies in February 2022.
So far this year, companies announced plans to hire 61,594 workers, the lowest January-February total since 2016.
Tyler Durden
Thu, 03/09/2023 – 08:37
ZeroHedge News
Donate To Address
Donate Via Wallets
Bitcoin
Ethereum
Dogecoin
Monero
Donate Bitcoin to The Bitstream
Scan the QR code or copy the address below into your wallet to send some Bitcoin to The Bitstream
Tag/Note:-
Send Bitcoin (BTC)
Donate Ethereum to The Bitstream
Scan the QR code or copy the address below into your wallet to send some Ethereum to The Bitstream
Tag/Note:-
Send Ethereum (ETH)
Donate Dogecoin to The Bitstream
Scan the QR code or copy the address below into your wallet to send some Dogecoin to The Bitstream
Tag/Note:-
Send Dogecoin (DOGE)
Donate Monero to The Bitstream
Scan the QR code or copy the address below into your wallet to send some Monero to The Bitstream
Tag/Note:-
Send Monero (XMR)
Please Add coin wallet address in plugin settings panel