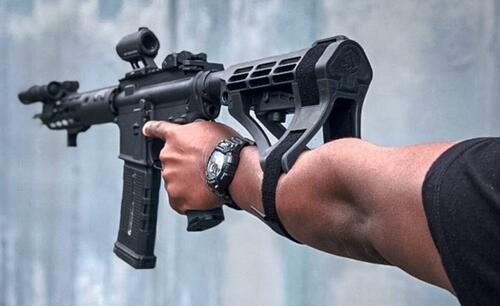 Will There Be Mass Noncompliance On ATF's Pistol Brace Rule?
Submitted by Gun Owners of America,
On Jan. 31, the ATF published its final rule regarding pistol braces to the federal register. Entitled "Factoring criteria for firearms with attached stabilizing braces," this rule essentially amends the definition of "rifle" to include millions of firearms previously classified as pistols.
For those unfamiliar with firearms law, what that means is that ATF can then classify all pistol-braced firearms with barrels under 16 inches (most, if not all pistol braced firearms on the market fit this definition) as Short Barreled Rifles, or SBRs which the National Firearms Act or NFA regulate.
Owners of these firearms now face a choice. Destroy their guns (or at least the brace), register them with ATF as SBRs, or turn them in.
This rule essentially functions as a massive registration scheme for pistol-braced firearms, and the ATF knows this. ATF is no stranger to using existing federal law to create "regulations" subverting the legislative process, as they used a similar method in 2018 to "ban" bump stocks.
ATF, after determining that bump stocks were not machine guns on many separate occasions, changed its mind and reclassified bump stocks as machine guns. By doing so, they regulated bump stocks under the NFA, which banned all machine guns produced after 1986.
This method of banning what was effectively a range toy opened the floodgates for potential ATF overreach, as presidents Trump and Biden found that they could use "regulatory authority" to subvert Congress and govern exclusively by executive fiat, having federal agencies like ATF make law through regulatory rulemaking.
Now the ATF has taken the drastic step of reclassifying pistol braces. The difference here, though, is while estimates of bump stock ownership amounted to around 520,000, estimates of pistol brace ownership are estimated to be between 10 to 40 million.
So, what did the American public do when ATF mandated that bump stocks be turned in on destroyed? Did they turn in their bump stocks to ATF?
No, they did not.
In fact, according to ATF, only 0.105% of bump stocks in circulation were ever turned in. That amounts to about 546 out of a total of 520,000.
According to @ATFHQ, gun owners turned in a whopping 0.105% of all bump stocks (or 546 of ~520,000) after President Trump's arbitrary & unconstitutional ban😂 pic.twitter.com/1GPqK43IQ7
— Aidan Johnston (@RealGunLobbyist) January 18, 2023
Should ATF expect the same for pistol-braced firearms? Only time will tell, but if the bump stock ban was any indication, gun owners don't seem to be too keen on turning in their firearms to the federal government.
And who can blame them? ATF hasn't exactly been forthcoming or consistent in its rulemaking process. Not too long ago, ATF stated in court that their recent "definition of frame or receiver" rule allows companies to sell pistol frame blanks without background checks, as long as those frames do not include jigs and tools to manufacture into firearms. Then, months later, ATF issued an open letter reversing their position and classifying these same frames as firearms.
Aidan Johnston, Director of Federal Affairs for Gun Owners of America, had this to say:
"The ATF is not a legislative body, and they are playing with people's lives and livelihoods with their thoughtless and draconian 'rules,' and that's why GOA will be attacking this rule from every angle—legally, legislatively, and administratively."
GOA has a history of overturning these unconstitutional rule changes. In 2020, when the ATF under the Trump administration attempted to regulate pistol braces, GOA rallied our members to take action. GOA members flooded the proposed rule with comments. Because of this, ATF abandoned its attempt and withdrew the rulemaking. 
While GOA just took ATF to court over this issue and filed for a preliminary injunction to halt the rule, we're also interested in cutting the ATF's ability to regulate Short Barreled Rifles, Short Barreled Shotguns, and similar types of firearms.   
To strip the ATF of its ability to regulate these types of firearms, we're targeting the core of the issue, the National Firearms Act. The outdated and unconstitutional NFA allows ATF the leeway to make these sorts of unconstitutional rule changes. We're working with Senator Roger Marshall of Kansas and Congressman Andrew Clyde of Georgia to pass the SHORT Act, which would remove Short Barreled Rifles and Shotguns from the NFA. 
But we can't do it alone. We need your help fighting back against the rogue ATF and the anti-gun Biden administration. Help us fight by calling your Senators and Congress members and asking them to support the SHORT Act.
*   *   * 
We'll hold the line for you in Washington. We are No Compromise. Join the Fight Now.
Tyler Durden
Wed, 03/08/2023 – 21:40
ZeroHedge News
Donate To Address
Donate Via Wallets
Bitcoin
Ethereum
Dogecoin
Monero
Donate Bitcoin to The Bitstream
Scan the QR code or copy the address below into your wallet to send some Bitcoin to The Bitstream
Tag/Note:-
Send Bitcoin (BTC)
Donate Ethereum to The Bitstream
Scan the QR code or copy the address below into your wallet to send some Ethereum to The Bitstream
Tag/Note:-
Send Ethereum (ETH)
Donate Dogecoin to The Bitstream
Scan the QR code or copy the address below into your wallet to send some Dogecoin to The Bitstream
Tag/Note:-
Send Dogecoin (DOGE)
Donate Monero to The Bitstream
Scan the QR code or copy the address below into your wallet to send some Monero to The Bitstream
Tag/Note:-
Send Monero (XMR)
Please Add coin wallet address in plugin settings panel