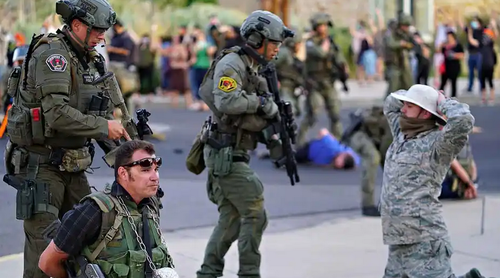 New Mexico Moves To Hobble Private Paramilitary Border Patrols
New Mexico lawmakers are advancing legislation which would restrict private paramilitary border patrols which have emerged in recent years to try and reduce the flow of migrants illegally crossing the southern US border.
Albuquerque police detain members of the New Mexico Civil Guard, an armed paramilitary group, following the shooting of a man during a protest over a statue of Spanish conquerer Juan de Oñate on June 15, 2020, in Albuquerque, New Mexico. (Adolphe Pierre-Louis/The Albuquerque Journal via AP, File)
The legislation is similar to what lawmakers have proposed in Oregon and Vermont, which have introduced initiatives to rein in activities by private militarized groups, Fox News reports.
Idaho lawmakers, meanwhile, are moving in the opposite direction – and have advanced a bill which would repeal a state law banning private militias.
Democratic state Rep. Raymundo Lara of Sunland Park is cosponsoring the New Mexico initiative and says it gives district attorneys new tools and discretion by making it a crime for armed paramilitary organizations to engage in public patrols capable to causing injury or death with provisions regarding intimidation. The bill includes felony penalties including prison.
The bill emerged Monday from House committee vetting for a possible floor vote, with the backing of Democrats. Republican House legislators have raised concerns that the proposal could interfere with neighborhood-watch style groups that respond to crime or limit opportunities for businesses in New Mexico that have provided tactical training to visiting security forces. –Fox News
According to Lara, the Democratic state rep, the New Mexico proposal is in response to incidents in 2019 in which armed members of the United Constitutional Patriots stopped migrants near the international border, as well as a 2020 incident in which men with rifles and tactical equipment were present at an Albuquerque protest.
Recently, the New Mexico Civil Guard was banned by a state district court judge from 'acting as a military unit' without authorization.
The bill, introduced by Lara, defines a paramilitary group as three or more individuals with a command structure aimed at publicly functioning as a combat, enforcement or security unit. Banned activities include interfering with government operations, government proceedings, actions that deprive others of their rights, and posturing deceptively as peace officers.
Tyler Durden
Wed, 03/08/2023 – 22:00
ZeroHedge News
Donate To Address
Donate Via Wallets
Bitcoin
Ethereum
Dogecoin
Monero
Donate Bitcoin to The Bitstream
Scan the QR code or copy the address below into your wallet to send some Bitcoin to The Bitstream
Tag/Note:-
Send Bitcoin (BTC)
Donate Ethereum to The Bitstream
Scan the QR code or copy the address below into your wallet to send some Ethereum to The Bitstream
Tag/Note:-
Send Ethereum (ETH)
Donate Dogecoin to The Bitstream
Scan the QR code or copy the address below into your wallet to send some Dogecoin to The Bitstream
Tag/Note:-
Send Dogecoin (DOGE)
Donate Monero to The Bitstream
Scan the QR code or copy the address below into your wallet to send some Monero to The Bitstream
Tag/Note:-
Send Monero (XMR)
Please Add coin wallet address in plugin settings panel