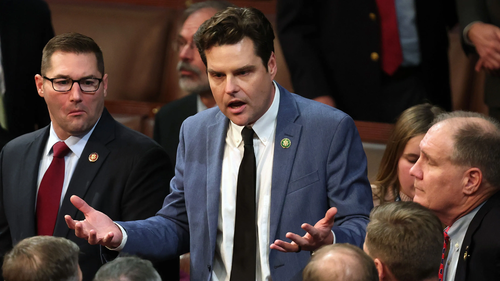 Gaetz Vows It's 'Only The Beginning' After Hawks Kill Bill To End Occupation Of Syria
Rep. Matt Gaetz's War Powers Resolution geared toward getting the US out of Syria was voted down in the House on Wednesday, an outcome which was expected by most, but what's interesting is what the numbers show in terms of steadily growing momentum to end American occupation of yet another Middle East country. Gaetz's resolution would have forced President Biden to withdraw all US troops from Syria within 180 days. It failed failed in a vote of 103-321, with 56 Democrats and 47 Republicans voting in favor of the bill.
The vote the roll call is here. What's most interesting is the surprisingly high number of Democrats in Gaetz's corner on this rare effort to end the occupation of Syria, which has been on for at least a half-decade. Very noticeably, more Democrats than Republicans voted in favor. But the hawks teamed up in a bipartisan manner on the other side of the vote, ultimately prevailing.
While recent Congressional efforts to reign in deepening US involvement in the Russia-Ukraine war has been much more across the board in favor of 'staying the course', this vote on Syria is promising despite its failing. It shows a steadily growing bipartisan move to curtail Washington's unaccountable foreign intervention and meddling abroad.
Gaetz said his work to end these forever wars has "only just begun":
"There is no role for the United States of America in Syria. We are not a Middle Eastern power. We have tried to build a democracy out of sand, blood, and Arab militias. Time and again, the work we do does not reduce chaos. Oftentimes, it causes chaos – the very chaos that then subsequently leads to terrorism. While today's vote may have failed, my fight to end forever wars and bring our troops home has only just begun."
"Syria is my lead-off hitter. We're going to take a trip around the globe. We may go to Yemen, we may have stops in Niger, we may have stops in Sudan, maybe ultimately, we'll end in Ukraine," Gaetz said.
The resolution was cosponsored four other Republicans: Reps. Marjorie Taylor Greene (R-GA), Andy Biggs (R-AZ), Paul Gosar (R-AZ), and Matt Rosendale (R-MT).
Some progressive Democrats voted in favor, including Reps. Ilhan Omar (D-MN), Alexandria Ocasio-Cortez (D-NY), Rashida Tlaib (D-MI), and Ro Khanna (D-CA). This suggests some of these progressive voices could also eventually be swayed on the topic of Ukraine. 
House hawks kill bipartisan effort to end war in Syria https://t.co/y0kmpIb4wk by, @DRBoguslaw
— Ryan Grim (@ryangrim) March 9, 2023
If "Syria fatigue" became evident long ago, and political cracks in supporting an endless occupation are clearly showing, then "Ukraine fatigue" too is likely to grow and take hold next, even within the D.C. beltway.
Tyler Durden
Thu, 03/09/2023 – 13:40
ZeroHedge News
Donate To Address
Donate Via Wallets
Bitcoin
Ethereum
Dogecoin
Monero
Donate Bitcoin to The Bitstream
Scan the QR code or copy the address below into your wallet to send some Bitcoin to The Bitstream
Tag/Note:-
Send Bitcoin (BTC)
Donate Ethereum to The Bitstream
Scan the QR code or copy the address below into your wallet to send some Ethereum to The Bitstream
Tag/Note:-
Send Ethereum (ETH)
Donate Dogecoin to The Bitstream
Scan the QR code or copy the address below into your wallet to send some Dogecoin to The Bitstream
Tag/Note:-
Send Dogecoin (DOGE)
Donate Monero to The Bitstream
Scan the QR code or copy the address below into your wallet to send some Monero to The Bitstream
Tag/Note:-
Send Monero (XMR)
Please Add coin wallet address in plugin settings panel