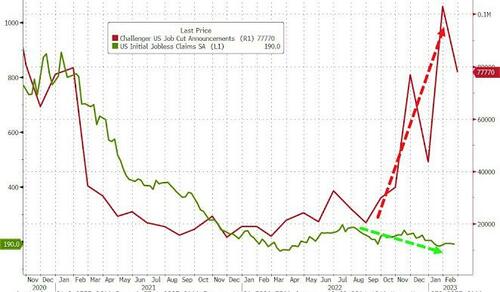 Brace For "Surge" In Initial Jobless Claims As Goldman Warns Favorable Seasonal Adjustments Are Over
Two weeks ago, we reported that JPMorgan was the latest bank to join a growing parade of sellside analysts which had had enough with the Dept of Labor's ridiculous seasonal adjustments. Specifically the bank's economist Dan Silver politely said that "some alternative seasonal adjustments of the initial claims data show some less favorable changes in filings from recent weeks than the official figures." Translation: the various "adjustments" embedded in initial claims data had gotten so grotesque even the largest US bank had to bring attention to them, and understandably so: earlier today we showed the divergence between layoffs tracked by Challenger and the DOL's own initial claims. The chart needs little commentary.
And even though today's initial claims ended the bizarre recent trend of declining in the face of relentless mass layoff news (not to mention the starkly conflicting Challenger data), and rose to the highest since December…
… today none other than Goldman joined the bandwagon slamming the BOL's gratuitous data fudging with chief economist Jan Hatzius writing that "seasonal adjustment issues have exerted an increasing amount of downward pressure on initial claims over the last few months" adding that "the pressure will begin to reverse in a few weeks."
Translation: we are about to see a big spike in claims, and it's not just Goldman expecting this. In a note just out from Bloomberg Economist Eliza Winger, she writes that "the rise in jobless claims is just a taste of what we expect over the next two months, when claims should rise sharply following a spike in layoff announcements. More companies are clearly preparing for an economic slowdown, cutting workers and slowing hiring."
Bottom line: the Biden admin may have been able to hide for months behind grotesque and gratuitous seasonal adjustments, which maintained the false impression that at least the US labor market was stable at a time of collapsing corporate profits and soaring inflation – and thus feeding the Fed with false signals demanding further monetary tightening. But all that is about to end, and the open question is whether tomorrow's payrolls report will benefit from these generous adjustments for one last fake hurrah in labor market strength, or is the DOL about to pull the rug and will markets be "shocked" with a negative print, just as DB's Jim Reid showed recently is long overdue as the US economy careens toward a painful hard-landing.
More in the full Goldman report available to pro subscribers.
Tyler Durden
Thu, 03/09/2023 – 11:20
ZeroHedge News
Donate To Address
Donate Via Wallets
Bitcoin
Ethereum
Dogecoin
Monero
Donate Bitcoin to The Bitstream
Scan the QR code or copy the address below into your wallet to send some Bitcoin to The Bitstream
Tag/Note:-
Send Bitcoin (BTC)
Donate Ethereum to The Bitstream
Scan the QR code or copy the address below into your wallet to send some Ethereum to The Bitstream
Tag/Note:-
Send Ethereum (ETH)
Donate Dogecoin to The Bitstream
Scan the QR code or copy the address below into your wallet to send some Dogecoin to The Bitstream
Tag/Note:-
Send Dogecoin (DOGE)
Donate Monero to The Bitstream
Scan the QR code or copy the address below into your wallet to send some Monero to The Bitstream
Tag/Note:-
Send Monero (XMR)
Please Add coin wallet address in plugin settings panel