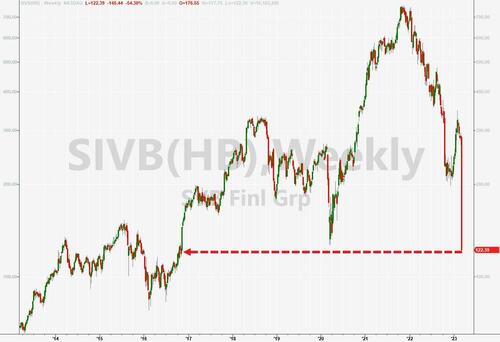 Bank Bloodbathery Sparks Widespread 'Risk Off'
First Silvergate, now Silicon Valley Bank, Signature Bank, and Silly old JPMorgan – all getting hammered lower for various financial and reputational reasons…
SIVB has lost over half its value amid heavy losses on startup investments…
Signature bank is down over 10% on crypto fears…
And JPMorgan is dumping on Staley/Dimon headlines…
All of which is dragging Financials lower…
Smashing the major equity indices into the red…
The S&P busted back below its 50DMA and is heading towards the 100- and 200-DMA…
And bond yields tumble in a flight to safety. 10Y Yields are down 10bps….
2Y yields are down 19bps!
Bitcoin puked back down to $21,000…
Of course, all this will be reversed if we see a big miss on payrolls tomorrow.
And of note, we are seeing short-term rates drift notably dovishly…
Do STIRs know something about tomorrow's NFP? As a reminder, the S&P 500 has had a standard deviation of some 1.51% on the day before payrolls.
Tyler Durden
Thu, 03/09/2023 – 14:03
ZeroHedge News
Donate To Address
Donate Via Wallets
Bitcoin
Ethereum
Dogecoin
Monero
Donate Bitcoin to The Bitstream
Scan the QR code or copy the address below into your wallet to send some Bitcoin to The Bitstream
Tag/Note:-
Send Bitcoin (BTC)
Donate Ethereum to The Bitstream
Scan the QR code or copy the address below into your wallet to send some Ethereum to The Bitstream
Tag/Note:-
Send Ethereum (ETH)
Donate Dogecoin to The Bitstream
Scan the QR code or copy the address below into your wallet to send some Dogecoin to The Bitstream
Tag/Note:-
Send Dogecoin (DOGE)
Donate Monero to The Bitstream
Scan the QR code or copy the address below into your wallet to send some Monero to The Bitstream
Tag/Note:-
Send Monero (XMR)
Please Add coin wallet address in plugin settings panel