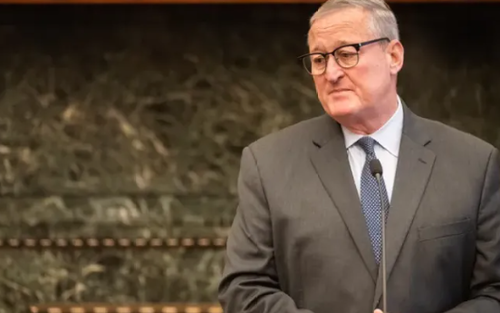 "Worst Violent Crime Surge In Three Centuries": Op-Ed Says Philly Dem Voters Owe The City "An Apology"
A scathing new op-ed in the Washington Examiner this week calls for Democratic voters in Philadelphia to offer up an apology to the rest of the city for helping usher in what is being called the city's "worst violent crime surge in three centuries of its history". 
The piece was written by Christopher Tremoglie and published yesterday. It opens by calling Philadelphia's criminal justice policies and reforms "radical" and "incompetent":
It's no secret that Philadelphia's voters elected a mayor and district attorney so incompetent that the city has experienced its worst violent crime surge in three centuries of its history. This is mainly because of the radical (and incompetent) left-wing criminal justice policies and reforms that were put into effect during their terms. Nor is it a secret that Philadelphia is one of the worst poverty-stricken cities in the nation. It is consistently ranked as the "poorest" of the country's biggest cities.
Tremoglie writes: "As a lifelong resident of the City of Brotherly Love, its continued allegiance to Democrats boggles my mind. No matter the horrors of the reality of living in the city, Philadelphians overwhelmingly continue to vote for Democrats who just keep making things worse. Something has to change. It's time, well beyond time really, for Philadelphia's Democratic voters to apologize to the rest of the city for the mess they have caused."
He says that "Crime, poverty, and corruption are the hallmarks of cities under Democratic control, and it has been since there was an Elvis Presley (the last Republican mayor was elected in 1948). The city's voters are to blame because they never learn."
The op-ed also pointed out recent corruption among the ranks of the city government:
"Last week, a former Democratic City Council member was sentenced to three-and-a-half years in prison after being convicted on bribery and fraud charges. Among his crimes was his involvement in a scheme in which he tried to force the Children's Hospital of Philadelphia to use labor unions to install MRI machines. Bobby Henon attempted to extort a hospital dedicated to helping terminally ill children to make money. There were other crimes too, but this was the most egregious."
"Henon won his most recent election in November 2019. During the campaign, it became public knowledge that he was under federal indictment for the crimes mentioned above, including the shakedown of the children's hospital. Yet the voters still elected him. His opponent at the time, a local community organizer named Pete Smith, tried to warn residents about Henon's corruption. They didn't care — they knowingly voted for a crook," the op-ed concludes.
"Philadelphia's voters are harming their communities. At some point, people will have to admit that those in cities like Philadelphia who routinely vote to keep the status quo deserve the crime, poverty, and other misfortunes that result from their decisions."
Meanwhile, as the city crumbles in the background, Philadelphia Mayor Jim Kenney has famously all but gone on record in stating that he "hates his job as mayor", as was reported late last year. To those who live in Center City Philadelphia and have spoken to waitstaff that have served Kenney, it appears to be an open secret that he does not, in fact, like his job.
"I'll be happy when I'm not here," Kenney said back in summer 2022. "When I'm not mayor and I can enjoy some stuff". 
BREAKING/LISTEN: "I'm waiting for something bad to happen all the time. I'll be happy when I'm not here. When I'm not mayor and I can enjoy some stuff." @CoconnellFox29 follow-up question "You're looking forward to not being mayor?" @PhillyMayor "Yeah." @FOX29philly pic.twitter.com/yC1f96Uhw9
— Steve Keeley (@KeeleyFox29) July 5, 2022
"F- you," Kenney more recently responded to Brian Tierney, previously the editor of The Inquirer and Daily News, at a late 2022 event, when questioned about whether or not he liked his job. 
Tierney responded: "That's a terrible mayor. He says he doesn't like his job. stop it Go ahead and do something different."
Tyler Durden
Tue, 03/07/2023 – 23:05
ZeroHedge News
Donate To Address
Donate Via Wallets
Bitcoin
Ethereum
Dogecoin
Monero
Donate Bitcoin to The Bitstream
Scan the QR code or copy the address below into your wallet to send some Bitcoin to The Bitstream
Tag/Note:-
Send Bitcoin (BTC)
Donate Ethereum to The Bitstream
Scan the QR code or copy the address below into your wallet to send some Ethereum to The Bitstream
Tag/Note:-
Send Ethereum (ETH)
Donate Dogecoin to The Bitstream
Scan the QR code or copy the address below into your wallet to send some Dogecoin to The Bitstream
Tag/Note:-
Send Dogecoin (DOGE)
Donate Monero to The Bitstream
Scan the QR code or copy the address below into your wallet to send some Monero to The Bitstream
Tag/Note:-
Send Monero (XMR)
Please Add coin wallet address in plugin settings panel