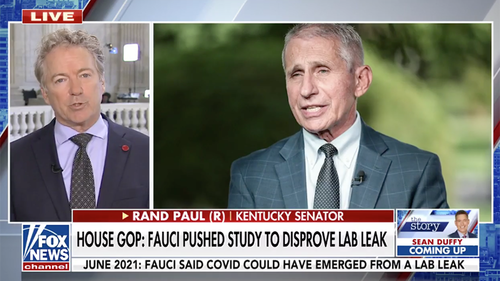 Watch: Rand Paul Accuses Fauci Of "Elaborate Cover-Up" Of COVID Lab Leak
Authored by Steve Watson via Summit News,
Senator Rand Paul asserted Tuesday that Anthony Fauci, along with other scientists working with him at the National Institutes Of Health engaged in an "elaborate cover-up" of the lab origin of the coronavirus pandemic in order to hide their own involvement.
"The reason Dr. Fauci didn't want any attention drawn to this or to his funding of the lab is that ultimately he would have culpability," Paul said in a Fox News interview.
"There's a responsibility – because for years he had advocated for gain-of-function research. He's even quoted as saying in 2012, if a pandemic should occur, if a scientist should be bitten by an animal and the virus gets out of the lab, it would be worth the knowledge," Paul added.
The Senator continued, "Dr. Fauci and Dr. Collins and others orchestrated a cover-up. There are emails between [former National Institutes of Health (NIH) Director Dr. Francis] Collins and Dr. Fauci in which Dr. Collins says this wouldn't be good for China, this wouldn't be good for science – meaning that it wouldn't be good for the business of science, for the money that changes hands."
"There's so much going on here. And when the American public finally finds out, I mean, there's going to be such dissatisfaction in this country like you can't believe," the Senator further urged.
"For example, we know that the NIH gave money to American universities who then gave it to military researchers … with the title of general and colonel in the [Chinese] People's Liberation Army," Paul added.
Paul also spoke about the involvement of Peter Daszak who received funding through EcoHealth Alliance.
"[T]he money definitely went to gain-of-function research. They would take a known SARS virus – this is the backbone or the original SARS from 2003 and 2004 – they would go to bat caves eight or 10 hours away, find new viruses, take the S-protein off and merge them into brand-new viruses never before found in nature," Paul said.
The Senator added that Fauci will likely be considered a "hostile witness" when he is called to testify again before the new Select Subcommittee on the Coronavirus Pandemic.
"Fauci can remember all the mandates. He wants to tell you how to wear four masks. He can remember everything, but he can't recall anything he did with setting up that first journal article to justify the cover-up," Paul said.
Watch:
In a further interview with Newsmax, Paul expanded on how Fauci pressured other scientists to steer away from the lab leak origin story.
"I think, his guilt and his fear of retribution, or his fear of culpability, led him to perhaps the most massive cover-up in modern medical history," Paul stated.
Watch:
Related:
Poll: 67% Believed In COVID Lab Leak BEFORE Latest Government Report
Rand Paul: COVID Lab Leak "One Of The Greatest Coverups In Modern Medical History"
*  *  *
Brand new merch now available! Get it at https://www.pjwshop.com/
In the age of mass Silicon Valley censorship It is crucial that we stay in touch. We need you to sign up for our free newsletter here. Support our sponsor – Turbo Force – a supercharged boost of clean energy without the comedown. Also, we urgently need your financial support here.
Tyler Durden
Wed, 03/08/2023 – 13:25
ZeroHedge News
Donate To Address
Donate Via Wallets
Bitcoin
Ethereum
Dogecoin
Monero
Donate Bitcoin to The Bitstream
Scan the QR code or copy the address below into your wallet to send some Bitcoin to The Bitstream
Tag/Note:-
Send Bitcoin (BTC)
Donate Ethereum to The Bitstream
Scan the QR code or copy the address below into your wallet to send some Ethereum to The Bitstream
Tag/Note:-
Send Ethereum (ETH)
Donate Dogecoin to The Bitstream
Scan the QR code or copy the address below into your wallet to send some Dogecoin to The Bitstream
Tag/Note:-
Send Dogecoin (DOGE)
Donate Monero to The Bitstream
Scan the QR code or copy the address below into your wallet to send some Monero to The Bitstream
Tag/Note:-
Send Monero (XMR)
Please Add coin wallet address in plugin settings panel