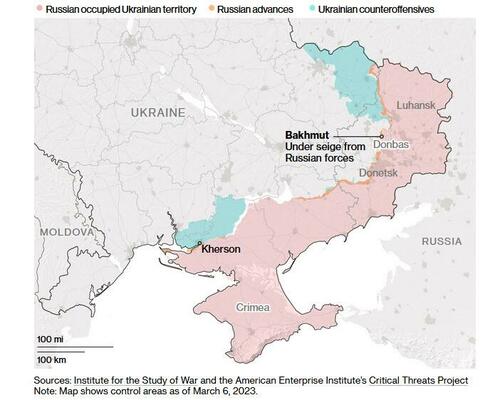 Russians Claim Control Over Bakhmut's East
According to Reuters, the head of Russia's Wagner mercenary group said on Wednesday his forces had taken full control of the eastern part of the Ukrainian city of Bakhmut as one of the bloodiest battles of the year-long war appears close to ending.  If the claim is true, it would mean Russian forces control nearly half the city in their push to secure their first big victory in several months.
The General Staff of the Ukraine's Armed Forces said in its Wednesday morning report: "The enemy, despite significant losses, … continues to storm the town of Bakhmut."
Wagner head Yevgeny Prigozhin said his fighters, who have been spearheading the Russian campaign to seize Bakhmut, had now captured the city's east. "Everything east of the Bakhmutka River is completely under the control of Wagner," Prigozhin said on Telegram.
⚡️Wagner leader Prigozhin stands less than a kilometre from the centre of Bakhmut, Donetsk Oblast.
8th of March, 2023. pic.twitter.com/3Nj6tlCoE7
— War Monitor (@WarMonitors) March 8, 2023
The river bisects Bakhmut city, which sits on the edge of a swathe of the Donetsk region that is already largely under Russian occupation. The city centre is on the west side of the river.
Still, Ukrainian defenders remained defiant, and after indicating they are ready for "a tactical retreat" from Bakhmut last week, military and political leaders are now speaking of hanging on to positions and inflicting as many casualties as possible on the Russian assault force (and to the Ukraine military and mercenaries as well, of course).
Meanwhile, Ukraine's defence minister said Kyiv urgently needed huge supplies of artillery shells to mount a general counter-offensive against Russia's invasion army, urging EU members to support an Estonian plan for joint procurement of munitions.
"We need to move forward as soon as possible," Oleksii Reznikov told reporters before an EU defence ministers' meeting in Stockholm.
Ukrainian military statements said earlier there may be "conditions" in Bakhmut for a Ukrainian offensive. "The main task of our troops in Bakhmut is to grind the enemy's fighting capability, to bleed their combat potential," Serhiy Cherevatyi, a spokesperson for Ukraine's eastern military command, told public television on Tuesday.
Russia has made progress in recent weeks around Bakhmut, but its winter offensive yielded little gains in assaults further north and south. It says that taking Bakhmut would be a step towards seizing the industrial Donbas region, made up of Donetsk and Luhansk provinces. At the same time, western analysts say Bakhmut has little strategic value (see more here "Why the Stakes Keep Rising In the Battle for Bakhmut in Ukraine")
Luhansk Governor Serhiy Haidai said in comments on Ukrainian television that Russia's strategy in east Ukraine remained the same – to take the remaining areas of Donetsk and Luhansk that it does not control.
"As for tactics – they understand that they are not able to make any rapid advance, so they have one tactic – they advance where they can. If they see that there is any success somewhere, they throw all the reserves into it," he said.
"So far, in the directions of Kreminna, Svatove and Bilohorivka (all northwest of the regional capital Luhansk) they have had no strategic successes and are making no progress."
The months of warfare in the east have been among the deadliest and most destructive since Russia invaded in February last year, adding Bakhmut's name to a list of devastated cities such as Mariupol, Sievierodonetsk and Lysychansk.
A Ukrainian military drone showed the scale of destruction in Bakhmut, filming apartment blocks on fire and smoke billowing from residential areas.  Iryna Vereshchuk, a deputy Ukrainian premier, said fewer than 4,000 civilians – including 38 children – out of a pre-war population of some 70,000 remained in the city, which is now largely in ruins after months of bombardment.
"The situation in the city is difficult. The enemy actively storms our positions, however they don't have any success and suffer colossal losses," a Ukrainian border guard said in a video released by the State Border Service.
"Probably out of spite, they tried to blow up two bridges. But we still receive everything that we need. The city stands, because Bakhmut was, is, and will be Ukraine. We'll stay in touch."
The Ukrainian General Staff also said Russian forces made more than 30 unsuccessful attacks over the past day near Orikhovo-Vasylivka alone, 20 km (12 miles) northwest of Bakhmut. They shelled the areas around 10 settlements along the Bakhmut section of the front line, it said.
Tyler Durden
Wed, 03/08/2023 – 10:00
ZeroHedge News
Donate To Address
Donate Via Wallets
Bitcoin
Ethereum
Dogecoin
Monero
Donate Bitcoin to The Bitstream
Scan the QR code or copy the address below into your wallet to send some Bitcoin to The Bitstream
Tag/Note:-
Send Bitcoin (BTC)
Donate Ethereum to The Bitstream
Scan the QR code or copy the address below into your wallet to send some Ethereum to The Bitstream
Tag/Note:-
Send Ethereum (ETH)
Donate Dogecoin to The Bitstream
Scan the QR code or copy the address below into your wallet to send some Dogecoin to The Bitstream
Tag/Note:-
Send Dogecoin (DOGE)
Donate Monero to The Bitstream
Scan the QR code or copy the address below into your wallet to send some Monero to The Bitstream
Tag/Note:-
Send Monero (XMR)
Please Add coin wallet address in plugin settings panel