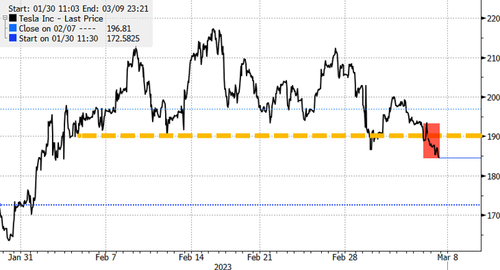 NHTSA Initiates Investigation Over Steering Wheels Detaching From Tesla Vehicles
Following reports of steering wheels detaching from the steering column while driving, the National Highway Traffic Safety Administration (NHTSA) has initiated yet another investigation into Tesla's Model Y SUV.
As per a report by AP News, the NHTSA has initiated an investigation into approximately 120,000 Model Y vehicles from the 2023 model year. The agency was prompted to act after receiving two complaints of steering wheels detaching while driving. Some customers have suggested that a missing bolt securing the wheel to the steering column may be the cause of the issue.
@elonmusk @TeslaOwnersWW @BLKMDL3 Family was excited to receive Tesla Y delivery on 1/24/2023. Was driving on highway and all the sudden steering wheel fall off, was lucky enough there was no car behind and I was able to pull on devider #SafetyFirst #Fixit #TeslaModelY #help pic.twitter.com/4UMokFA2cv
— Prerak & Neha Patel (@preneh24) January 30, 2023
According to documents published on NHTSA's website on Wednesday, the agency noted that both incidents occurred when the Model Y SUVs had low mileage. The investigation will focus on determining if the issues are widespread and reviewing Tesla's manufacturing and quality control process. 
Last month, Tesla paused the rollout of the $15,000 driver-assistance system (Full Self-Driving Beta) until a new software upgrade can be deployed over the air to address the recall of 362,758 vehicles equipped with FSD Beta. The recall comes as NHTSA said FSD Beta might "allow the vehicle to act unsafe around intersections" and "respond insufficiently to changes in posted speed limits." 
Tesla shares fell 1.4% as of 0750 ET in premarket trading in New York. 
Meanwhile, Berenberg Bank analyst Adrian Yanoshik has downgraded Tesla's rating from "buy" to "hold" in a note published on Wednesday. Yanoshik believes there is now little room for disappointment and less upside potential.
Here are some of the highlights from Yanoshik's note (list courtesy of Bloomberg): 
With the shares now priced on a 2025 P/E of 25x and EV/sales of 4.5x, analyst Adrian Yanoshik writes that he now prefers other automakers within his coverage
Price cuts are an investment in growth, but do come at cost of near-term margins
While trims near-term estimates, continues to see strength in outer years
PT set to $210 from $200, implies a 12% increase from Tuesday's close
NHTSA is on a scrutinizing roll with Tesla. What will they investigate or recall next? 
Tyler Durden
Wed, 03/08/2023 – 08:30
ZeroHedge News
Donate To Address
Donate Via Wallets
Bitcoin
Ethereum
Dogecoin
Monero
Donate Bitcoin to The Bitstream
Scan the QR code or copy the address below into your wallet to send some Bitcoin to The Bitstream
Tag/Note:-
Send Bitcoin (BTC)
Donate Ethereum to The Bitstream
Scan the QR code or copy the address below into your wallet to send some Ethereum to The Bitstream
Tag/Note:-
Send Ethereum (ETH)
Donate Dogecoin to The Bitstream
Scan the QR code or copy the address below into your wallet to send some Dogecoin to The Bitstream
Tag/Note:-
Send Dogecoin (DOGE)
Donate Monero to The Bitstream
Scan the QR code or copy the address below into your wallet to send some Monero to The Bitstream
Tag/Note:-
Send Monero (XMR)
Please Add coin wallet address in plugin settings panel