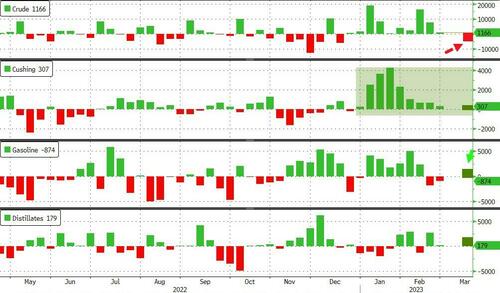 WTI Extends Losses Despite API Reporting First Crude Draw In 11 Weeks
Oil prices tumbled today for the first time in six days, with WTI tumbling from almost $81 to almost a $76 handle intraday, hit by weaker-than-expected import data from China and a more hawkish-than-expected Fed Chair raising demand concerns due to the potential for more aggressive interest-rate hikes.
"Tight global supply, war, sanctions on Russia oil and the rising Chinese and global demand tilt the balance for higher oil prices in the medium run," said Ipek Ozkardeskaya, senior analyst at Swissquote Bank, in a daily note.
"But higher energy prices mean higher inflation, and higher inflation means tighter monetary policies which, in return, increase the global recession odds, and could weigh on oil prices," she said.
The question now is, will the 10-week streak of builds in US crude stocks end?
API
Crude -3.835mm (+700k exp)
Cushing +24k
Gasoline +1.84mm (-1.4mm exp)
Distillates +1.927mm (-1.0mm exp)
Ding dong, the builds are dead. According to API, crude stocks drew down 3.835mm barrels last week – the first draw in 11 weeks. Cushing saw yet another build (though it was tiny) as products saw a notable build…
Source: Bloomberg
Additionally, according to AlphaBBL data, crude inventories at Cushing fell by 2.45 million barrels in week ending March 3.
WTI broke back below its 100DMA and 50DMA today…
WTI was hovering around $77.40 ahead of the API print and extended the day's weakness after…
As a reminder, the shitshow that is the official EIA data is tomorrow and the big question is – will they un-fudge their ridiculous 'adjustment factor'
Source: Bloomberg
However, EIA Administrator Joe DeCarolis admitted that the EIA will make changes to its surveys to account for the light hydrocarbons, which will take time. The Administration will also change its accounting methods for crude oil blending to get more accurate data on U.S. crude oil production,
Translation: Don't hold your breath for any significant change soon.
Tyler Durden
Tue, 03/07/2023 – 16:37
ZeroHedge News
Donate To Address
Donate Via Wallets
Bitcoin
Ethereum
Dogecoin
Monero
Donate Bitcoin to The Bitstream
Scan the QR code or copy the address below into your wallet to send some Bitcoin to The Bitstream
Tag/Note:-
Send Bitcoin (BTC)
Donate Ethereum to The Bitstream
Scan the QR code or copy the address below into your wallet to send some Ethereum to The Bitstream
Tag/Note:-
Send Ethereum (ETH)
Donate Dogecoin to The Bitstream
Scan the QR code or copy the address below into your wallet to send some Dogecoin to The Bitstream
Tag/Note:-
Send Dogecoin (DOGE)
Donate Monero to The Bitstream
Scan the QR code or copy the address below into your wallet to send some Monero to The Bitstream
Tag/Note:-
Send Monero (XMR)
Please Add coin wallet address in plugin settings panel