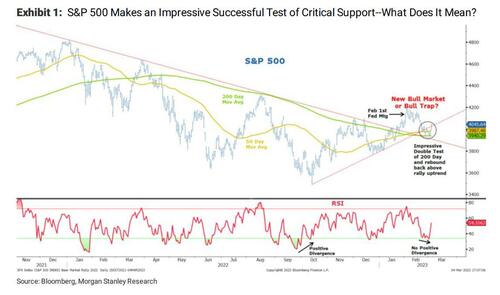 Michael Wilson Turns Tactically Bullish, Sees S&P Rising To 4150
After 9 consecutive weeks of urging clients to sell or short the rally, and famously saying on Jan 9 that the 3900 level in the S&P was an "easy sell" – which, come to think of it, is not that different from Marko Kolanovic telling JPMorgan clients throughout most of 2022 to buy the dip before turning bearish just as the market bottomed in October – Morgan Stanley's Mike Wilson has finally capitulated, just as we said he would despite a barrage of disgruntled comments who viewed his words as gospel instead of what it really was: an attempt to load up the axed MS flow desk with easy retail money.
Recall, it was just last week when we wrote "New Bull Market Or Classic Bull Trap": Wilson, Kolanovic Dispense Weekly Dose Of Market Doom, and reminded readers that Wilson is "forecasting the S&P 500 will slide as much as 24% to 3,000 points some time in the spring. Translation: Morgan Stanley has some very comitted buyers who would love to buy stocks lower, and certainly much lower." And it was one month ago when we penned "Undaunted By "Hated Rally", Mike Wilson And Marko Kolanovic Urge Clients To Stay Bearish" in which we said that after urging everyone to sell above 3,900, Wilson has kept his clients "out of the best start to the year in decades. In January, he said the economy was headed for a downturn, and the bank reduced its recommended equity allocation once again due to fears of a recession and central-bank overtightening. Last week, he said that the US economy's disinflationary process could just be "transitory." Stocks then surged."
We then summarized our views on the matter by saying that the "Rally won't end until Wilson and Marko turn bullish"
Rally won't end until Wilson and Marko turn bullish
— zerohedge (@zerohedge) February 7, 2023
And so, with spoos having risen as high as 4,200 before dropping, yet failing to break below the 3,900 key support level last week at which point another furious squeeze sent e-minis surging to just shy of 4,100 this morning, one of the two strategists finally threw in the towel overnight.
In his latest Weekly Warm-Up note, just seven days after confidently declaring that "given our view on earnings, March is a high risk month for the bear market to resume" noting that "we think this rally is a bull trap", this morning Mike Wilson pulls a 180 on his bearish view – at least for the near term – and writes that "equity markets survived a crucial test of support last week that suggests this bear market rally is not ready to end just yet" and concluding that "we could see further upside if the US dollar and interest rates continue their fall from Friday with next resistance for the S&P 500 at 4150 under such conditions."
Some more details:
Wilson starts off by writing that given his comments last week around the technicals, "we thought it was important to provide a brief update after Friday's price action" which as noted earlier was the latest short squeeze (as we had correctly previewed one week earlier) to be sparked by too many traders piling on the same bearish side that Wilson has been pitching for months. In short, Wilson writes, "equity markets went right to the brink of the critical support levels we discussed, and held." Translation: those who expected the bear market to resume as Wilson explicitly said one week ago, lost money again.
More importantly, the MS strategist notes, markets "reacted strongly from those levels, which suggests this will not be a one day wonder and the bear market rally is not yet over." Here is a snapshot of Wilson's technical observations" 
First, while our comments will focus on the S&P 500, these observations apply to most of the other major indices as well–i.e., the Nasdaq, Russell 2000 and the Dow Industrials, which remains the weakest of the bunch, in our view. First, in Exhibit 1 one can see that the key support was tested severely over the past few weeks but on Friday, the market reacted strongly around the second test. We have to respect that successful test and now need to try and decide what it means.
Second, and in addition to the strong rebound, the S&P 500 was able to recapture its uptrend from the rally that began in October. However, there was not a positive divergence on the second retest as shown in the chart and that leaves open the door that this rally may still be on borrowed time despite the impressive price action on Friday. We would point out that one of the reasons we called the rally in October had to do with the fact that we did get a very strong positive divergence on that secondary low in mid October (see chart above).
True, Wilson correctly called the October rally. If only he had also correctly called the January/February rally instead of slamming it week after week, and only turning "tactically" bullish after the recent selloff failed to even recapture the level he said on Jan 9 – the very day the meltup start – was an "easy sell."
Third, and final, the other thing Wilson is watching closely from a technical standpoint is the longer term uptrend that began after the GFC in 2009:
We showed this trendline in prior notes and continue to think it is critical that the S&P 500 get back above it to confirm a new bull market. As shown in Exhibit 2, this trendline has provided critical resistance and support over the past 14 years during this secular bull market. More recently, it has been more of a resistance line and that level comes in today at around 4150. While we think the S&P 500 could make another attempt at this key resistance, it will require 2 things in particular to surmount it–lower 10-year US Treasury yields and a weaker dollar. In fact, we think Friday's sharp fall in 10-year yields was an important driver of Friday's bounce in stocks. The dollar, too, showed some signs of exhaustion and it would be helpful if it can decline more meaningfully.
So having capitulated on his call from last week which said March was a "high risk month for the bear market to resume", what does Wilson think happens next? Well, after admitting that he was wrong and that more bear market rallies are coming, the MS strategist remains bearish, and says that "in the absence of a weaker dollar and lower yields, this bear market rally will fail. In other words, these are key variables to consider in one's view for stocks over the next several weeks and even months."
Well, of course they are: after all what the strategist just said is a truism; but it's not Wilson's job to teach finance 101, but rather to say where stocks go next – and thus yields and the dollar – not give "if… then…" assessments.
Wilson's bottom line is that "there is plenty of bullish and bearish fodder in these charts and one will have to take their own view on the fundamentals to decide if this bear market rally is still intact or if a new bull market has begun." Which is strange considering that up until last week, for nine weeks in a row, Wilson was adamantly confident that his view on fundamentals was right. Did Wilson's conviction in his view fade? Why no, in fact as he himself concludes, "our view remains the same-the bear market is not over–but we acknowledge that Friday's price action may extend it a few more weeks. Time will tell."
What did happen is that having missed all of the January meltup and the violent Friday rebound, enough of Morgan Stanley's high net worth clients complained that Wilson had kept them out of the market, and the bank's permabearish analyst finally got a tap on the shoulder, prompting him to tell clients that going forward they have to "take their own view" if a new bull market has begun, and even if it hasn't, Wilson takes a big step back from predicting imminent doom, and writes that "we could see further upside if the US dollar and interest rates continue their fall from Friday with next resistance for the S&P 500 at 4150 under such conditions."
Tyler Durden
Mon, 03/06/2023 – 15:25
ZeroHedge News
Donate To Address
Donate Via Wallets
Bitcoin
Ethereum
Dogecoin
Monero
Donate Bitcoin to The Bitstream
Scan the QR code or copy the address below into your wallet to send some Bitcoin to The Bitstream
Tag/Note:-
Send Bitcoin (BTC)
Donate Ethereum to The Bitstream
Scan the QR code or copy the address below into your wallet to send some Ethereum to The Bitstream
Tag/Note:-
Send Ethereum (ETH)
Donate Dogecoin to The Bitstream
Scan the QR code or copy the address below into your wallet to send some Dogecoin to The Bitstream
Tag/Note:-
Send Dogecoin (DOGE)
Donate Monero to The Bitstream
Scan the QR code or copy the address below into your wallet to send some Monero to The Bitstream
Tag/Note:-
Send Monero (XMR)
Please Add coin wallet address in plugin settings panel