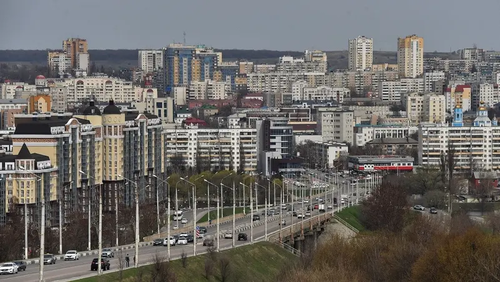 FSB Says It Thwarted High-Profile Assassination Attempt; Missiles & Drones Target Russian Border City
Russia says its large border city of Belgorod has come under fresh missile attack from Ukraine on Monday, following an uptick in drone attacks on various Russian cities and facilities.
The missiles were intercepted, the Russian military says. "At least one person was wounded in the southern Russian region of Belgorod on Monday after Russian forces shot down three missiles, the governor of the region bordering Ukraine said," Reuters reports.
Russian city of Belgorod, some 700 kilometers south of Moscow, via AFP.
Governor Vyacheslav Gladkov described on Telegram that "The falling debris had also brought down some power lines near the town of Novy Oskol" but also said the damage has not been fully assessed.
"It's known about one wounded, a man with shrapnel wounds to his hand," Gladkov confirmed. He stopped short of naming Ukraine as being behind the attack, but over the course of the war there's been numerous instances of fire coming from Ukrainian forces. The Russian city of some 400,000 people lies a mere 25 miles from the Ukrainian border.
On Saturday there were reports of a drone attack on a power substation at a village outside of Belgorod identified as Razumnoye, resulting in no injuries, however damage was reported.
The past week of threatening drone activity over Russian skies have made it clear that Ukrainian forces have stepped up attacks inside Russia. A series of attacks on Feb.28 were especially intense. The Kremlin has lately alleged Washington assistance in these attacks. 
Meanwhile, Russian state media is on Monday freshly alleging a covert plot to assassinate an influential media personality. "A Ukrainian bomb plot targeting the owner of a Russian TV channel has been thwarted by the Federal Security Service (FSB), the agency claimed on Monday," RT writes. "It pinned the alleged assassination attempt on a Ukraine-based Russian-born neo-Nazi, who also claimed credit for a deadly cross-border raid last week."
The FSB released and circulated the below videos…
The FSB prevented an attempt on the head of the Tsargrad Group of companies Konstantin Malofeev. They were going to blow him up in a car, as in the murder of Daria Dugina. pic.twitter.com/xsGGGjHEuE
— Tony (@Cyberspec1) March 6, 2023
"The plot allegedly involved rigging a bomb to the car of billionaire Russian entrepreneur Konstantin Malofeev, owner of the Christian-focused TV channel Tsargrad, the FSB said in a statement," the report continues.
Russia's FSB releases video said to be demining of car of Russian oligarch and monarchist Konstantin Malofeev. Chief suspect: Denis Kapustin (Nikitin) and his Russian Volunteer Corp, which appear to be the new Dmytro Yarosh and Right Sector. Has Nikitin got a business card yet? https://t.co/TRuDXSTHhS
— Euan MacDonald (@Euan_MacDonald) March 6, 2023
While there's no independent confirmation of the plot, RT concludes that "It compared the plan to the assassination of political activist and journalist Darya Dugina, whose car was blown up last August near Moscow."
Tyler Durden
Mon, 03/06/2023 – 11:15
ZeroHedge News
Donate To Address
Donate Via Wallets
Bitcoin
Ethereum
Dogecoin
Monero
Donate Bitcoin to The Bitstream
Scan the QR code or copy the address below into your wallet to send some Bitcoin to The Bitstream
Tag/Note:-
Send Bitcoin (BTC)
Donate Ethereum to The Bitstream
Scan the QR code or copy the address below into your wallet to send some Ethereum to The Bitstream
Tag/Note:-
Send Ethereum (ETH)
Donate Dogecoin to The Bitstream
Scan the QR code or copy the address below into your wallet to send some Dogecoin to The Bitstream
Tag/Note:-
Send Dogecoin (DOGE)
Donate Monero to The Bitstream
Scan the QR code or copy the address below into your wallet to send some Monero to The Bitstream
Tag/Note:-
Send Monero (XMR)
Please Add coin wallet address in plugin settings panel