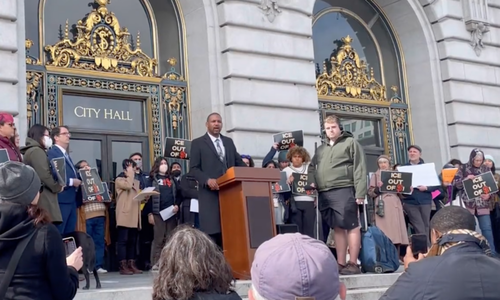 Deporting Fentanyl Dealers Violates Sanctuary City Policies, Says SF Supervisor
Authored by Brad Jones via The Epoch Times (emphasis ours),
San Francisco County Supervisor Shamann Walton told San Franciscans this week the U.S. shouldn't deport illegal immigrant drug dealers for selling fentanyl, the deadly synthetic opioid that was largely responsible for nearly 2,000 drug overdose deaths in the city since 2020.
"There's been a drug issue in this country for a very long time. But there's no way we're going to stand by and allow people to say that one race or immigrants are responsible for these fentanyl deaths," Walton said at a rally on the steps of City Hall on Feb. 28.
San Francisco County Supervisor Shamann Walton speaks at a rally at city hall in San Francisco on Feb. 28. (Video screenshot courtesy of JJ Smith)
Walton defended the city's sanctuary policies that prohibit city authorities from assisting U.S. Immigration and Customs Enforcement (ICE) in response to a proposal by Supervisor Matt Dorsey to add fentanyl crimes to a list of violent crimes the city uses for cooperating with ICE. Dorsey's proposal aligns with a recent push for a crackdown on fentanyl dealers initiated by District Attorney Brooke Jenkins.
Homeless people gather near drug dealers in the Tenderloin District of San Francisco, Calif., on Feb. 22, 2023. (John Fredricks/The Epoch Times)
"You cannot violate sanctuary policy for any reason. It goes against the morals of our fabric here in San Francisco, and it also allows people who don't share our values to persecute people that need us the most," Walton said at the rally. "People are going crazy over fentanyl because we're starting to see more white people die from this drug. Where the hell were these people when my mothers and my grandmothers were on crack?"
J.J. Smith lives in the city's infamous Tenderloin district, a hotspot for drug use, and he lost his brother to a fentanyl overdose in October. He told The Epoch Times on March 2 that Walton's remarks came as "a shock" and "didn't set well with a lot of people, even the black community."
Smith said it's no secret that drug dealers with connections to Honduras largely control the illicit fentanyl trade in the Tenderloin, which is not directly affecting Walton's district.
Honduran dealers "are the only people in San Francisco that have large quantities of fentanyl," he claimed. "We should care because it's killing everybody, not only white people. And, even if it does kill only white people, who is to say that's fair?"
Smith questioned the logic behind lesser punishments for fentanyl dealers when crack dealers in the 1980s and 1990s, including African Americans, were handed long prison sentences for their crimes.
"But now Walton is speaking about a deadly drug that's killing more people than any drug that's ever been on the market," he said.
A homeless man sits passed out next to an empty syringe in San Francisco, Calif., on Feb. 23, 2023. (John Fredricks/The Epoch Times)
Jacqui Berlinn, co-founder of Mothers Against Drug Addiction and Deaths, told The Epoch Times she was offended by Walton's comments.
Berlinn said she was a child during the crack cocaine epidemic of the 1980s, but that she is now fighting for her son Corey, who is addicted to fentanyl, and "for all citizens of all races" affected by the "poison flooding our cities."
"We have members fighting with us who are black," she told The Epoch Times in a text message. "Fentanyl is killing U.S. citizens of all races—disproportionately persons of color. It's also poisoning U.S. children that had no idea what they were getting. There has never been a drug market so deadly as the one we are experiencing now."
San Francisco was among the first 12 U.S. cities to declared itself a sanctuary city, prohibiting local police from stopping or arresting people based on their immigration status.
Walton was speaking at a noon rally in support of Supervisor Hillary Ronen's proposed resolution denouncing criticism of sanctuary city policies at City Hall ahead of the Feb. 28 Board of Supervisors meeting. Supervisors Myrna Melgar and Dean Preston also attended the rally.
After nearly two hours of public comments, the board voted unanimously to continue debate on the issue at its next meeting on March 7.
San Francisco Public Defender Mano Raju said at the rally that city police unfairly target black and brown dealers and that the "war on drugs" was designed to target black and brown people for arrest and incarceration, while white dealers are rarely arrested.
"We also know that Latin X community members who are targeted are young and often survivors of labor, trafficking, and exploitation. Using our local resources to funnel these individuals to ICE detention facilities will subject them to horrific conditions that can lead to a death sentence for deportation," he said. "And, all this cruelty is going to do nothing to stem the overdoses."
Dorsey did not respond to requests for comment.
Tyler Durden
Sun, 03/05/2023 – 23:00
ZeroHedge News
Donate To Address
Donate Via Wallets
Bitcoin
Ethereum
Dogecoin
Monero
Donate Bitcoin to The Bitstream
Scan the QR code or copy the address below into your wallet to send some Bitcoin to The Bitstream
Tag/Note:-
Send Bitcoin (BTC)
Donate Ethereum to The Bitstream
Scan the QR code or copy the address below into your wallet to send some Ethereum to The Bitstream
Tag/Note:-
Send Ethereum (ETH)
Donate Dogecoin to The Bitstream
Scan the QR code or copy the address below into your wallet to send some Dogecoin to The Bitstream
Tag/Note:-
Send Dogecoin (DOGE)
Donate Monero to The Bitstream
Scan the QR code or copy the address below into your wallet to send some Monero to The Bitstream
Tag/Note:-
Send Monero (XMR)
Please Add coin wallet address in plugin settings panel