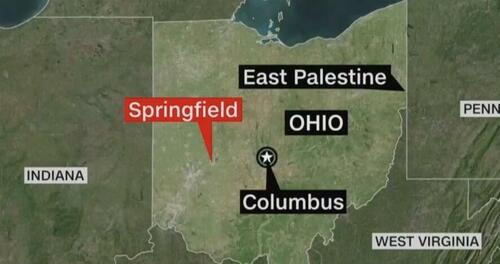 Residents Told To Shelter In Place After Norfolk Southern Freight Train Derails In Ohio
Another Norfolk Southern freight train has derailed in Ohio. 
"The Clark County Emergency Management Agency is asking residents within 1,000 feet of a train derailment at Ohio 41 near the Prime Ohio Business Park to shelter-in-place out of an abundance of caution," the county wrote in a Facebook post. 
The post continued, "We ask that all residents in need of travel to Ohio 41 find alternate routes. Local and state officials are on scene, including the Springfield Fire Rescue Division and the Springfield Police Department." 
The Ohio State Highway Patrol reported 20 railcars of a 212-car Norfolk Southern freight train derailed while traveling southbound in Springfield.
A video shows the moment the freight train derailed. 
🚨#BREAKING: Hazmats crews are heading massive train derailment site with residence told to shelter in place
Currently A larger emergency response along with hazmat crews are underway to a massive train derailment in Springfield, Ohio where approximately… https://t.co/reKZVZdr6Q pic.twitter.com/Wupxv1oDo9
— R A W S A L E R T S (@rawsalerts) March 5, 2023
A drone video reveals a variety of railcars, such as boxcars, hopper wagons, and what appear to be tanker cars, were involved in the derailment. 
SPRINGFIELD, OHIO — New reports of power outages following a Norfolk Southern train derailment.
Officials urging residents to "shelter in place," and to avoid the area due to unknown materials, possibly chemical. pic.twitter.com/UZgyQS0TpO
— Citizen Free Press (@CitizenFreePres) March 5, 2023
Huge train derailment in Springfield near State Route 41 at Clark County Fairgrounds near main entrance#train #trainderailment #clarkcounty #springfield #ohio #breakingnews #breaking pic.twitter.com/xqbjeAAebt
— Crime With Bobby (@crimewithbobby) March 4, 2023
🚨#UPDATE: Norfolk Southern Railway says it's currently sending crews to clean up the large train derailment in Springfield, Ohio. With Nearby residents ordered to shelter in place. Reports are saying there are no hazmat cars involved in the derailment pic.twitter.com/Qafw3tQMdY
— R A W S A L E R T S (@rawsalerts) March 5, 2023
Local media reported that a hazmat crew had arrived at the incident area. 
BREAKING: Hazmat team on the way after train derails in Springfield, OH.
Let's hope this doesn't become another East Palestine incident.pic.twitter.com/cqhi1NPnnZ
— Collin Rugg (@CollinRugg) March 5, 2023
Clean-up operations by Norfolk Southern crews are expected soon. 
Saturday's train derailment occurred one month after the train crash in East Palestine. 
Tyler Durden
Sat, 03/04/2023 – 20:15
ZeroHedge News
Donate To Address
Donate Via Wallets
Bitcoin
Ethereum
Dogecoin
Monero
Donate Bitcoin to The Bitstream
Scan the QR code or copy the address below into your wallet to send some Bitcoin to The Bitstream
Tag/Note:-
Send Bitcoin (BTC)
Donate Ethereum to The Bitstream
Scan the QR code or copy the address below into your wallet to send some Ethereum to The Bitstream
Tag/Note:-
Send Ethereum (ETH)
Donate Dogecoin to The Bitstream
Scan the QR code or copy the address below into your wallet to send some Dogecoin to The Bitstream
Tag/Note:-
Send Dogecoin (DOGE)
Donate Monero to The Bitstream
Scan the QR code or copy the address below into your wallet to send some Monero to The Bitstream
Tag/Note:-
Send Monero (XMR)
Please Add coin wallet address in plugin settings panel