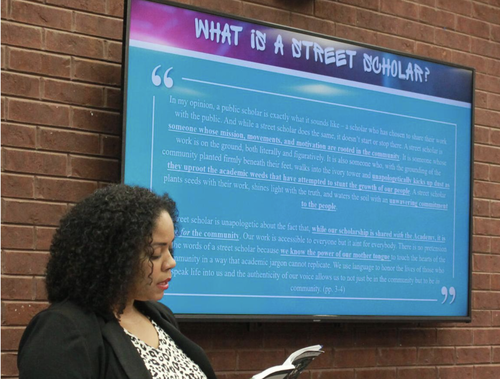 Prof Demands 'Black Bereavement' Leave After Killing Of Any Black Person
For the latest evidence that woke academia is dragging Western society into madness, we present Southern Illinois University Edwardsville professor Angel Jones, who argues that black university professors and staff should be allowed bereavement leave whenever any black person is victimized…anywhere.  
Angel Jones discusses her book, Street Scholar (Chloe Wolfe via The Alestle)
Writing at Times Higher Education, Jones accuses American colleges and universities of disregarding Black faculty and staff's mental and emotional well-being in the aftermath of "societal events" involving a black person. Contrasting against the "bare minimum" response that's offered to black students, Jones asks: 
"Where is the acknowledgment of our pain? Where are our counselling services? Where is our grace for missed meetings and deadlines while we mourn?"
Underscoring the broad range of qualifying events, Jones spotlights the example of Tyre Nichols, the black man savagely beaten to death in January by…five other black men with Memphis police badges.  
Jones, whose work is "grounded in Critical Race Theory and Critical Race Feminism," ridicules the notion that, as a black woman, she would be "expected to return to 'business as usual' on Monday after seeing a member of my community murdered on Friday." The SIU-E campus is more than 300 miles from Memphis, and Jones gives no indication of any personal relationship with Nichols. 
Returning to "business as usual" is a while privilege. Black people are in mourning after seeing ANOTHER member of our community brutally beaten and killed by the police. Expecting us to return to work/school unscathed is insensitive and unrealistic (1/9)
— Angel Jones, PhD (@AngelJonesPhD) January 30, 2023
In a fleeting moment of clarity, Jones recognizes that "some may have thought I was joking when I mentioned Black bereavement leave, but I wasn't."
As for how much of a free pass black faculty and staff should receive after a black person is victimized anywhere within range of the internet, Jones calls for "flexibility": 
"Some may need a day off while others may just need to be able to work from home. Some may need a small extension on a deadline while others may need to have something removed from their plate completely."
Jones university biography reads something like the profile pages of woke-parody Twitter accounts:
Expertise: "racial microaggressions, Racial Battle Fatigue, and gendered-racism"
Research focus: "The impact of racism on the mental health of Black students at historically White institutions"
Recent study: "How Black graduate women respond to and cope with gendered-racial microaggression"
Next study: "Exploring the experiences of Afro-Latina students with Racial Battle Fatigue"
Pronouns: "she/her/ella"
Jones and critical race scholars like her all across Western academia foster black fragility and interracial tension…but, hey, it's a living, and one that's divorced from rational market forces.  
Black women are often underpaid and undervalued, so receiving a message like this really made my heart smile. It is a beautiful reminder that WE get to determine our worth, not anyone else. pic.twitter.com/GG33TlzoGi
— Angel Jones, PhD (@AngelJonesPhD) February 24, 2023
Tyler Durden
Sat, 03/04/2023 – 17:00
ZeroHedge News
Donate To Address
Donate Via Wallets
Bitcoin
Ethereum
Dogecoin
Monero
Donate Bitcoin to The Bitstream
Scan the QR code or copy the address below into your wallet to send some Bitcoin to The Bitstream
Tag/Note:-
Send Bitcoin (BTC)
Donate Ethereum to The Bitstream
Scan the QR code or copy the address below into your wallet to send some Ethereum to The Bitstream
Tag/Note:-
Send Ethereum (ETH)
Donate Dogecoin to The Bitstream
Scan the QR code or copy the address below into your wallet to send some Dogecoin to The Bitstream
Tag/Note:-
Send Dogecoin (DOGE)
Donate Monero to The Bitstream
Scan the QR code or copy the address below into your wallet to send some Monero to The Bitstream
Tag/Note:-
Send Monero (XMR)
Please Add coin wallet address in plugin settings panel