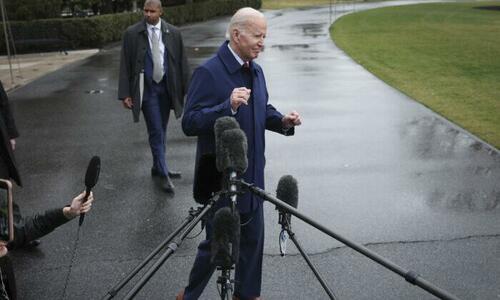 Biden Walks Away From Question About Holding China Accountable For COVID Origin
Authored by Eva Fu via The Epoch Times (emphasis ours),
Days after FBI Director Christopher Wray said the origin of the COVID pandemic is "most likely a potential lab incident in Wuhan," President Joe Biden abruptly walked away from the White House press corps when asked about whether he intends to hold China accountable.
President Joe Biden speaks to reporters as he departs the White House in Washington, on March 3, 2023. Biden is scheduled to travel to his home in Wilmington, Delaware today. (Win McNamee/Getty Images)
On March 3, the president approached the waiting press corps on his way from the White House residence to Marine One.
As he came within earshot, a reporter asked him, "On COVID origin, will you hold China accountable?"
At the question, Biden "put both hands up in a shrug, seeming annoyed, and then turned and walked away toward Marine One," according to a White House pool report.
BREAKING: President Biden @POTUS was going to speak but turned away upon hearing my question on #Covid origin and whether he'll hold #China accountable. @NTDNews @ChinaInFocusNTD @capitolreport pic.twitter.com/jsbMTNPeYb
— Iris Tao (@IrisTaoTV) March 3, 2023
The president's apparent reluctance to speak about the issue came after the recent revelation that the Department of Energy, which oversees 17 U.S. laboratories, believes as early as 2021 that COVID-19 most likely emerged from a lab leak.
President Joe Biden reacts to questions from journalists moments before departing from the South Lawn of the White House in Washington, on March 3, 2023, as he travels to Wilmington, Delaware. (Roberto Schmidt/AFP via Getty Images)
The conclusion, reached with "low confidence," was made in an updated classified intelligence report to the White House and key congressional members in 2021, according to The Wall Street Journal.
The FBI had previously arrived at the same conclusion earlier in 2021 with "moderate confidence."
Wray confirmed in a Fox News appearance earlier this week that his agency still holds that view.
"The FBI has for quite some time now assessed that the origins of the pandemic are most likely a potential lab incident in Wuhan," Wray said.
Read more here…
Tyler Durden
Sat, 03/04/2023 – 17:30
ZeroHedge News
Donate To Address
Donate Via Wallets
Bitcoin
Ethereum
Dogecoin
Monero
Donate Bitcoin to The Bitstream
Scan the QR code or copy the address below into your wallet to send some Bitcoin to The Bitstream
Tag/Note:-
Send Bitcoin (BTC)
Donate Ethereum to The Bitstream
Scan the QR code or copy the address below into your wallet to send some Ethereum to The Bitstream
Tag/Note:-
Send Ethereum (ETH)
Donate Dogecoin to The Bitstream
Scan the QR code or copy the address below into your wallet to send some Dogecoin to The Bitstream
Tag/Note:-
Send Dogecoin (DOGE)
Donate Monero to The Bitstream
Scan the QR code or copy the address below into your wallet to send some Monero to The Bitstream
Tag/Note:-
Send Monero (XMR)
Please Add coin wallet address in plugin settings panel