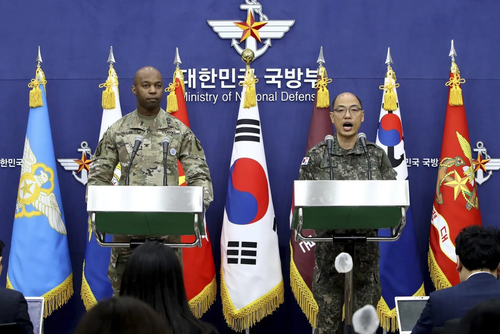 US, South Korea Announce Largest Joint Drill In Years While Calling Out "DPRK Aggression" 
As if the world needs another trigger-ready hotspot and conflict theatre to open up, the US and South Korean forces on Friday announced the largest joint military drills held on the peninsula in a half-decade.
"The 11-day exercises will start March 13 and will include simulations as well as live demonstrations in the sea and air, and on land, U.S. Forces Korea and the Republic of Korea announced on Friday," The Hill reports based on official statements. The statement from the allied militaries actually directly called out "aggression" from the north, which is likely to result in a fierce reaction from Pyongyang.
Col. Isaac Taylor, left, of the United Nations Command (UNC), Combined Forces Command (CFC), and United States Forces Korea (USFK) and Col. Lee Sung-jun of South Korea's Joint Chiefs of Staff. Pool photo via AP.
"Freedom Shield is designed to strengthen defense and response capabilities of the Alliance by focusing within the exercise scenario on things such as the changing security environment, DPRK aggression and lessons learned from recent wars and conflicts," the joint statement said
The Kim Jong-un regime has previously called such drills a "rehearsal" for invasion, and has responded to recent ones by ramping up short to medium range missile tests.
According to The Hill, multiple side exercises will accompany the main one, "Also, troops will engage in another joint drill called Warrior Shield FTX, which will see air, land, sea, space, cyber and special operations exercises."
"The last major drill of comparable size that the U.S. and South Korea held in the Korean peninsula was Foal Eagle in 2018," The Hill notes. The announcement came on the same day that the US continued long-range bomber flights over regional waters:
On Friday, the two militaries also conducted a combined air drill with at least one American B-1B long-range bomber and South Korean F-15K and KF-16 fighter aircraft, South Korea's ministry of defense said in a statement. The aim of the drill was to practice coordination as well as demonstrate Washington's "extended deterrence" against North Korean threats, the ministry said.
More big US-South Korea military drills.
Both sides announced they'll hold a drill, dubbed "Freedom Shield," from March 13-23.
Also, a US B-1B long-range strategic bomber today participated in a joint air drill with South Korean F-15K and KF-16 fighters. Video via @ROK_MND: pic.twitter.com/tXb0sPAw9P
— William Gallo (@GalloVOA) March 3, 2023
The North Korean foreign ministry has in response called on the US to withdraw these plans and to halt all joint training, while removing military assets from the peninsula. Pyongyang warned that if the US continues its "hostile and provocative practices" – this will be interpreted as an act of war. 
Tyler Durden
Fri, 03/03/2023 – 13:05
ZeroHedge News
Donate To Address
Donate Via Wallets
Bitcoin
Ethereum
Dogecoin
Monero
Donate Bitcoin to The Bitstream
Scan the QR code or copy the address below into your wallet to send some Bitcoin to The Bitstream
Tag/Note:-
Send Bitcoin (BTC)
Donate Ethereum to The Bitstream
Scan the QR code or copy the address below into your wallet to send some Ethereum to The Bitstream
Tag/Note:-
Send Ethereum (ETH)
Donate Dogecoin to The Bitstream
Scan the QR code or copy the address below into your wallet to send some Dogecoin to The Bitstream
Tag/Note:-
Send Dogecoin (DOGE)
Donate Monero to The Bitstream
Scan the QR code or copy the address below into your wallet to send some Monero to The Bitstream
Tag/Note:-
Send Monero (XMR)
Please Add coin wallet address in plugin settings panel